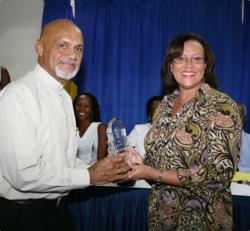 At Plum Tree, we have timeshare owners and several repeat guests, so we are always striving to improve the visitor experience.
(PRWEB) July 13, 2012
Barbados Plum Tree Club is the proud recipient of the Intimate Hotels of Barbados (IHB) Hotel of the Year Award and Totally Barbados was there to capture the moment.
General Manager of Plum Tree Club, Ann Smith, expressed her appreciation for the award and attributed it, in large part, to the tremendous effort of her staff, who she said go above and beyond the call of duty to ensure guest comfort and satisfaction.
"At Plum Tree, we have timeshare owners and several repeat guests, so we are always striving to improve the visitor experience. We have focused strongly on staff training, in both customer relations and room standards. Most of our staff have been with the company for five years or more and see our repeat guests as members of our family."
Mrs. Smith said that Plum Tree Club prides itself on consistently offering clean, well-appointed and secure apartments, with unmatchable customer service, and believes that Plum Tree Club has positioned itself in Barbados as the property of choice for many Staycations, corporate and long-stay bookings.
Mrs. Smith also highlighted the work being done at the hotel on energy efficiency, and noted that energy-efficient air-conditioners have been installed in many of the apartments, along with the Energy Eye air-conditioning management system.
The property also recently participated in the Travel Foundation's Water and Energy Saving Programme, which aimed to sensitise staff and guests to environmentally friendly travel and accommodation practices.
"We take guest feedback very seriously and we are implementing many suggestions made by our visitors over the past year," said Mrs. Smith. These include upgrading the complimentary Wi-Fi internet service to make it available in all apartments and the installation of new laundry machines for guest use.
"For our guests, Plum Tree Club is their home-away-from-home in Barbados," she added. "We want them to feel comfortable and to have all the amenities of home at their convenience. Our apartments are popular among repeat and long-stay visitors, because we offer full kitchen facilities, which makes it easy to save money while still enjoying the comfort of a hotel experience."
Mrs. Smith thanked the Intimate Hotels of Barbados (IHB) for their work on behalf of the small hotels of Barbados, and noted the important contribution of the small hotels to the tourism industry and to Barbados in general.
Plum Tree Club is a group of 40 self-catering apartments located on Rockley Golf Course. Originally set up as a timeshare property, it has expanded its customer base to include short term rentals, corporate guests and long term tenants.
---------
Boiler Plate
About Totally Barbados and Brecal Inc.
Brecal Inc., operating under the name 'Totally Barbados' was founded by Brett Callaghan and is based in Barbados in the Caribbean. The company was incorporated February 24th, 2005.
Totally Barbados was voted the "World's Leading Travel Destination Website" for 2008, 2009 and 2010 by the World Travel Awards.
By guiding visitors to Barbados hotels, car rentals, restaurants, attractions and more on Totally Barbados dot com, visitors can easily plan their entire holiday and vacation, before arriving in Barbados.
Promoting all there is to know about the Caribbean Island of Barbados - that's Totally Barbados.
Media Contact
Founder and Managing Director
Brett Callaghan,
Brecal Inc. / Totally Barbados
140 B Durants Fairways,
Christ Church, BB17097,
Barbados.
For more information on Brecal Inc. / Totally Barbados, please call (866) 978-5898 or (246) 420-2420.
Email: service(at)totallybarbados(dot)com