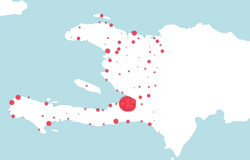 We are proud to say that Job509 has evolved to be the number one tool to help people find employment in Haiti.
Port-Au-Prince, Haiti (PRWEB) July 16, 2012
On May 1st, 2011, Job509 opened its website to millions of Haitians in search of employment in a country struck by poverty. Nearly one year later, the website hits 1 million visits. In a country with about 40% unemployment rate and recovering from a devastating earthquake, the demand for jobs is at an all time high. Job509 provides a platform for job seekers to see available jobs in Haiti and apply directly for the job on their website.
After a year on the market, Job509 has a database of over 30,000 resumes, 514 job posts, and has given 450 individuals a job. Reaching their one million visit, Job509 CEO, Cedric Brandt, says, "We are proud to say that Job509 has evolved to be the number one tool to help people find employment in Haiti. Reaching one million visits means we have established ourselves as a trustworthy resource for the many people seeking a job. We hope to see this number continue to increase exponentially and we are working hard on making sure this happens."
In a country of 9 million with a high illiteracy rate, this young company has achieved what many thought to be impossible. The 1 million visits on the website represents the Haitians in search of hope and a better future. Out of the million visits, 60% come from new visitors, indicating a continued rise in interest for the website. "There are so many possibilities to grow. The people want to get up and move forward, they are tired of unemployment. Those that are employed have a thirst to learn more, so in the coming year we hope to hold many seminars, teach classes, and organize events to enrich and empower the Haitian workforce. This is critical for the growth of Haiti," states Mr. Brandt.
In April 2012, the company held its first event on sales and customer service with marketing and leadership expert, Didier Reinach. The event lasted three days and had close to 300 attendees. "Given the success of our first event, the Job509 team is looking forward to organizing a number of similar events in the near future. We are ready to tackle anything," says the enthusiastic Haitian CEO.
In the meantime, Job509's positive reputation in Haiti continues to grow thanks to its many satisfied clients. "I want to thank Job509 for its services. One candidate was selected for our job post and is currently in Colombia for training. I strongly believe that the work method of Job509 is modern, practical and effective," says the chief of human resources of CINA, one of Haiti's biggest cement company.
About Job509
Job509 is an Internet software company based in Port-Au-Prince, Haiti. Founded in 2011, they provide an online listing of job opportunities in Haiti. Job509 has allowed tens of thousands of jobseekers to create online resumes and apply to jobs electronically via its website http://job509.com.