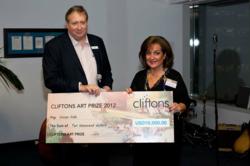 (PRWEB) July 15, 2012
Sydney based artist, Vivian Falk, was awarded the Cliftons Art Prize for 2012 last week, from amongst more than 620 international artists located across Australia, New Zealand, Hong Kong and Singapore, for her painting of renowned racing icon Gai Waterhouse. The much talked about artwork entitled, 'Gai Waterhouse, 4am training', is now on permanent display in Cliftons award-winning Sydney Training & Conference venue.
Earlier this year, training and event facilities provider Cliftons invited emerging artists from across ten states to submit original artworks for its sixth Art Prize competition. Winners from each region were awarded USD $2,000, with the overall Cliftons Art Prize winner, Vivian Falk, receiving USD $10,000.
View all the Cliftons Art Prize winners online via http://www.cliftonsartprize.com.
The competition's independent judges included Tim Abdallah, Head of Art at Menzies, Ian Hamlin, President of the New Zealand Academy of Fine Arts, Henry Hin Au-yeung, Founder & Managing Director of Grotto Fine Art in Hong Kong and Australian artist and printmaker, David Bromley.
Mrs Falk, an Archibald finalist, was overjoyed at the news she had won the Cliftons Art Prize.
"Being a finalist and winning Cliftons Art Prize is such an honour. Cliftons provides an unprecedented platform to showcase artists' works to tens of thousands of people across the Asia Pacific region, providing artists invaluable exposure", says Vivian Falk.
Cliftons founder and Managing Director, Andrew Cameron, is passionate about the arts, and sees the ongoing competition as a tangible way of supporting local emerging artists, as well as enriching the visual experience at Cliftons training venues. The Awards Evening also provided an opportunity for Cliftons corporate clients to meet and support local artists in the community.
"We are very focussed on providing visually stimulating environments for our training and event facilities," says Cameron.
"Supporting the arts is another demonstration of our commitment to visual excellence. We are proud to be involved with emerging and established artists across our local communities."
During the Exhibition Period and Award Evening, Cliftons guests and delegates had the opportunity to vote for their favourite artwork in Cliftons popular "People's Choice Award", with the training and event facilities provider offering to purchase the winning works from each location.
'Gai Waterhouse, 4am training' and 'Reflected City' will form a permanent part of the Cliftons art collection, which includes artworks from previous winners at all of its ten Asia Pacific locations.
This isn't the only prize that Mrs Falk will exhibit in this year. Her recent portrait of Prof Geoffrey, Brynne and Juddy Edelsten, entitled 'Our World' has been chosen as a finalist in the 2012 Doug Moran National Portrait Prize.
Explaining her vision, Mrs Falk said, "my philosophy is that a photo captures a moment but only an artist can make a painting capture life and become a memorable experience."
For all media enquiries and high resolution images, please contact Annie Wallner.
1800 629 088 | art.prize(at)cliftons(dot)com