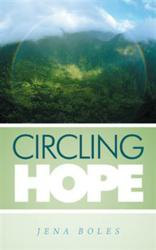 Lake Park, IA (PRWEB) July 16, 2012
Author Jena Boles, in her new inspirational book "Circling Hope" (published by Inspiring Voices), shares the story of her early destructive life – how she eventually lightened her load, and how she transformed her perspective and her life.
Boles has structured her narrative into two acts: the first is largely historical, exploring the trials, hardships and difficulties she had to overcome to become the woman she is today – difficulties such as her parents' divorce, the death of her mother and brother, a twelve year battle with bulimia, unhealthy drinking habits and her own first marriage and divorce. The second act describes her healing transformation detailing how faith transformed her life, creating a narrative that allows readers to follow along in her footsteps to overcome their own adversity.
An excerpt from "Circling Hope":
"Within these crisp pages are the very personal contents of my life, strewn publicly about for all to examine. I am not proud of much of the subject matter and it nearly crippled me to relive these events in order to get them all down on paper, but there is a purpose for it all. There is a purpose for my transparency and mission to share. Through my darkness comes light. Through my pain comes joy. Through my misery comes HOPE. HOPE for me and HOPE for you. If you are ready to lighten your load and move forward with a new, life-transforming perspective, please walk gently with me through my journey."
Boles believes the appeal of her book lies in its ability to inspire and encourage. "Those who commit to the approximately one hour of reading this short book requires will undoubtedly see pieces of their own lives unfolding in the storyline," she says. "Those who have yet to move beyond their past or present heartache will find clear direction for doing so."
About the Author
Jena Boles is a wife and mother of two children. She and her husband, B.J., reside in Lake Park, Iowa. As the result of her tumultuous upbringing, Boles has made it her passion to break the patterns of unhealthy and unstable living and inspire others to begin their own life-transformations.
Inspiring Voices, a service of Guideposts, is dedicated to helping authors share their words of hope, faith and inspiration with the world. A strategic publishing partnership with indie book publishing leader, Author Solutions, Inc.; Inspiring Voices allows authors to publish inspirational and spiritual books without respect to their specific doctrine, denomination or political point-of-view. Authors published through Inspiring Voices benefit from access to exclusive Guideposts marketing services, with select titles appearing in a special collection at Guideposts.org. For more information on publishing with Inspiring Voices, log on to inspiringvoices.com or call 866-697-5313.
###