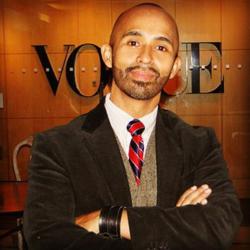 New York, New York (PRWEB) July 13, 2012
Designer, Raul Penaranda, is proudly presenting his Fall/Winter 2012 ready-to-wear collection to editorials, buyers, press/media, friends and family on July 19th. Penaranda, who lives by the mantra "Dream, Vision, Reality" is ready to reaffirm his place among the world's fashion elite.
Inspired by midnight opulence, Penaranda's stunning collection highlights the magnificence of understated beauty. Penaranda's collection is replete with lavish fabrics and simple cuts, which are the hallmark of the Penaranda brand.
After eleven years of an impressive career collaborating and working with Liz Claiborne, DKNY, Kellwood, Tommy Hilfiger and Oscar de la Renta, Penaranda's recent recognitions by industry critics are a testament of his unique sensibility, craftsmanship and excellence.
"This year has been remarkable and memorable in many ways, most importantly in my personal and professional life" said Penaranda. "It has been only the 22nd month since I launched my first collection and these 3 moments had been very special to me on this journey: I have been able to present my collection to fashion editors at Vogue, Lucky and Vanity Fair magazines at the world-famous Conde Nest building here in NYC. I have been invited to the Emmy's and the private Governor Ballroom event in Los Angeles and have shared the stage with Hope Frank, Chief Marketing Officer of Webtrends, Evan Green, Chief Marketing Officer of the Recording Academy of Arts and Jeanniey Mullen, Chief Marketing Officer of Zinio & Viv Magazine" This past year he also meet fellow Colombian, Nina Garcia, Editor of Marie Claire and judge on the Lifetime show Project Runway, whose team has personally visited with Penaranda to learn more about his brand. Penaranda's creations were also debuted in the last season of NBC's Celebrity Apprentice Season 5, where contestant Dayana Mendoza, Miss Universe 2008, wore his designs during the show.
In collaboration with Tony Nabhan and John Hanna owners of the exclusive La'Mezza restaurant, http://www.lamezzarestaurant.com and Growthink Inc, his small business consultant and media sponsor, Penarada will be hosting a private showing of his collection to a select group of guests, industry insiders and members of media at this fine Lebanese fusion cuisine landmark located at 63 Nathaniel Place. Englewood, NJ 07631, July 19th at 9:00pm.
Hair and Makeup collaborations included; Josephine Fusco – Makeup Artist http://www.makeupbyjosephine.com 917-583-4903.
Mauricio Cifuentes & Malvin Almanzar for Mauricio Hair Studio Privato New York. http://www.mauriciohair.com. 212-532-3030.
William X Pacherres. Senior Stylist and award winning makeup artist Wpacherr(at)aol(dot)com. 203-906-5975.
Monique Hill-Buchanan Marwani, Stylist and makeup artist. https://www.facebook.com/monique.marwani.
Music by Vincenzo Luzzo, vincenzoluzzo(at)gmail(dot)com, facebook.com/vincenzoluzzo.
Delicious cupcakes from Jennifer Herrera and Jonathan E. Rupchand Co-Owners of Truffle and Basil Private Chef Group Corporation.
ChefJenHerrera(at)TruffleandBasil(dot)com, http://www.cupcakesmoderne.com 917.383.5005. 800.659.5308
To request a press pass or schedule interviews, please contact: pr(at)raulpenaranda(dot)com.
About Raul Penaranda:
Raul was born in Cali, Colombia. He grew up in Caracas, Venezuela and moved to Miami, Florida with his family as a young adult. In 2000, Raul relocated to New York City where he was offered a freelance design position at Liz Claiborne, while enrolled at F.I.T and Parson's. Over the next ten years, Penaranda quickly made leaps throughout the industry. His portfolio includes work from some of the industry's top fashion houses such as Oscar de la Renta, DKNY and Tommy Hilfiger, along with industry giants, Liz Claiborne and Kellwood. He has held key positions as Creative Director of Merchandise and Trend Services, Senior Designer and Textile/CAD Designer. In 2009, Penaranda decided to make one of his long time dreams a reality and opened Raul Penaranda LLC to house his self-titled Raul Penaranda. http://www.raulpenaranda.com