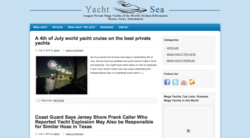 This just opens both of us to even more innovation and opportunities
Los Angeles, CA (PRWEB) July 14, 2012
Online luxury yachting site Yacht-Sea has enlisted the complete services of web management firm Impact1. The group will now be in charge of fully managing the website and will also be responsible for the company's social network and social media presence.
Prior to this new deal, Impact1 was responsible for the social networking campaigns, online promotion and article marketing for Yacht-Sea. With it, Impact1 was able to create an excellent presence for the company in social networks and have brought in business for them.
Impact1 has been particularly successful in developing a strong social networking presence for the company, a company which had previously did not have any promotional campaigns in sites like Facebook and Twitter. Now the site has a both, along with followings in Tumblr, Pinterest, Google+, and even YouTube.
Now, Impact1 will be given full access to all of the company's online accounts and the website itself, which Impact1 manager Nicolas Camp says will see "many welcome improvements."
"Our online promotional campaigns for the site used to run into some barriers because we didn't have full access the company's website," said Camp.
"Now, we'll be able to run full online campaigns completely without any roadblocks caused by not having full access to a company's website. We'll also be able to make improvements to the website itself and make it more compatible with mobile devices and with social media services like Pinterest."
"We are very excited about getting to fully run our campaigns for the company. There were things we couldn't really accomplish with out being able to do things with the official site. This just opens both of us to even more innovation and opportunities."
About Yacht-Sea
Yacht-Sea.com is a website featuring blog posts about luxury yachts and ocean yachts. The blog also features lists of the largest super yachts in the world, and the most expensive mega yachts in the world. The site also features the latest news on yachting.