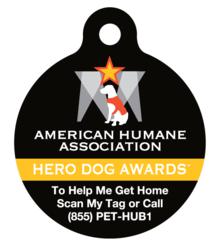 These wonderful dogs have done an amazing job protecting us and this is our chance to help protect them.
Seattle, WA (PRWEB) July 13, 2012
PetHub, Inc., announced today that eight finalists of the American Humane Association's (AHA) Hero Dog Awards have been honored with an exclusive digital ID tag and gold subscription. The Hero Dog Awards were created by American Humane Association to celebrate the devoted relationship between dogs and people. These dogs were recognized by AHA for their heroism and courage on Monday, and will wear these hero PetHub digital ID tags to commemorate their noble services.
"Hero Dogs are ordinary dogs doing extraordinary things, whether it's saving lives on the battlefield, lending sight or hearing to a human companion, or simply the tail-wagging welcome a pet owner relishes at the end of a hard day," said Tom Arnold, CEO and founder of PetHub. "These wonderful dogs have done an amazing job protecting us and this is our chance to help protect them."
This is the first time that AHA has awarded these furry heroes with a PetHub digital ID pet tag, which includes a combination of QR codes, web profiles, shelter alerts, GPS notifications, and a toll-free hotline to help get lost pets home faster and safer than ever before.
"Even Hero Dogs can become separated from their families, so we are thrilled that they will now be protected with PetHub's digital ID pet tags and online services," said Sean Hawkins, Creator & Executive Producer for the Hero Dog Awards at American Humane Association. "Anyone can easily help an animal get home, whether it's using a Smartphone to scan the QR code, using the Website address on the tag to view a pet's online profile or placing a toll-free call to PetHub."
According to American Humane Association, only about 17 percent of lost dogs and two percent of lost cats ever find their way back to their original owners. In fact, almost 6-8 million animals enter shelters every year.
While these award winning Hero Dogs will received an exclusive AHA Hero Dog 2012 pet ID tag from PetHub, any pet owner can set up a free online profile for their pet and purchase a tag for their companion animal for under $13. All PetHub powered tags are linkable to a free online profile that pet guardians can update anytime with an unlimited amount of data, including multiple emergency contacts, critical medications, allergies, immunizations, vet and insurance providers, dietary needs, license and rabies tag numbers, and much more.
The online profile is free to create and is accessible from any browser or mobile device to help pet owners ensure that their furry family member's important information is always up-to-date, especially during times of travel or when leaving a pet with a sitter. Pet owners who want an added layer of protection can purchase one of PetHub's optional premium subscriptions that include shelter alerts ("Amber Alert" for pets), email notifications, and GPS mapping. PetHub's optional premium offerings start at $3.95 per month.
About PetHub, Inc.:
PetHub, Inc., is a privately funded company focused on getting lost pets home faster and safer than ever before using new technologies to solve an old problem. The company's latest YouTube videos can be viewed at PetHub.tv. PetHub™ and SmartLink™ are trademarks of PetHub, Inc. The PetHub SmartLink tag is patent pending. Be sure to "Like" PetHub at on Facebook, follow us on Twitter at @PetHub, and see our videos on YouTube at http://PetHub.tv.
About American Humane Association:
Since 1877 American Humane Association has been at the forefront of virtually every major advance in protecting children, pets and farm animals from cruelty, abuse and neglect. Today we're also leading the way in understanding the human-animal bond and its role in therapy, medicine and society. American Humane Association reaches millions of people every day through groundbreaking research, education, training and services that span a wide network of organizations, agencies and businesses. You can help make a difference, too. Visit American Humane Association at http://www.americanhumane.org today.
About Hero Dog Awards:
American Humane Association's Hero Dog Awards™ were created in 2010 to celebrate the powerful relationships between dogs and people, to serve as a catalyst to advance society's understanding of the human-animal bond. Dogs are an invaluable part of our lives every day; as companion animals, service and therapy animals, animal soldiers, police officers and first responders and emerging heroes. More than 2.5 million people have voted for their favorite Hero Dogs so far at http://www.herodogawards.org. The annual star-studded awards show, held this year on October 6th at the Beverly Hilton Hotel, is an ambitious effort to continually recognize "ordinary dogs who do extraordinary things."
PetHub and their respective logos are trademarks, registered trademarks, or service marks of PetHub. Other products and company names mentioned are the trademarks of their respective owners.