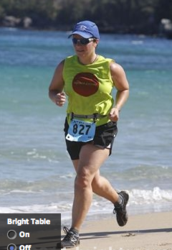 What I found from my email list of subscribers was a desire to take their triathlon training to the next level. So I produced this plan to satisfy their many requests!
Pittsburgh, PA (PRWEB) July 13, 2012
TriMastery Triathlon Training Systems officially launched its first electronic Triathlon training product today: "The 12 Week Sprint Triathlon Training Plan." The Sprint Triathlon Training plan comes in a regular intermediate edition for $29 in an online Ebook. It can be upgraded to include an advanced version for an additional $15, for athletes who are serious about taking things to the next level and developing race winning fitness. The Sprint Triathlon Training plan is available immediately online at TriMastery's website http://www.trimastery.com
The Sprint Triathlon Training blog on TriMastery.com has a membership list of over 8,000 subscribers, who have turned in a loyal following and a lively online community. Founder and Owner, Suzanne Atkinson, says, "The Sprint Triathlon Training Plan comes from years of feedback from my blog clients, who originally subscribed to my beginner triathlon training blog. What I found from my email list of subscribers was a desire to take their triathlon training to the next level. So I produced this plan to satisfy their many requests!"
Head Coach, Suzanne Atkinson runs a coaching company in Pittsburgh, PA called Steel City Endurance. Just three years after becoming a coach, she is now in charge of curriculum development for Total Immersion Swimming's coach training program. She also runs a local bike racing team in Pittsburgh, Pennsylvania. Atkinson also attended a number of running clinics and seminars with the world's top Triathlon Running coach, Bobby McGee. In addition, she a licensed physician.
Tri Mastery is an online Triathlon Training System that gives athletes access to a wide variety of free and paid Triathlon Training resources. Suzanne Atkinson publishes a number of informative blog posts on Triathlon Training, as well as offering all visitors a Free Ebook download called "1st Time Finisher's Guide for Triathlon." The site offers EBooks for sale, including "12 Week Advanced Sprint Triathlon Training Program" and "12 Week Advanced Olympic Triathlon Training Program." The site is also the first Triathlon Training site to offer an interactive online training course, entitled "8 Week TriMastery University." This program provides athletes access to teaching videos, drill demonstrations, and customized online training plans led by Suzanne Atkinson through daily message board posts and bi-monthly interactive coaching calls. TriMastery will also offer live, in person training camps in the near future.
This Press release was created and distributed on behalf of TriMastery Training Systems by Prism Communications Inc. Prism Communications is a full service internet marketing company that cuts through the myriad of internet marketing tactics and develops a coherent strategy for companies looking to grow their online presence. Prism, with its focus on strategy before tactics takes internet marketing into three main phases for clients: 1) Attract - bringing the right kind of visitors to their website; 2) Convert - turning those visitors into leads, prospects or clients; and 3) Relate - developing long term, lasting relationships with leads, prospects, and clients through constant communication. To learn more about Prism Communications, or to contact them for a free consultation for internet marketing solutions, email them at sam@prism-communications.com or call them at 917.319.2229.