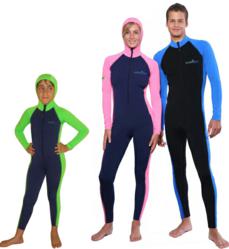 Your skin deserve the best protection
Traverse City, MI (PRWEB) July 15, 2012
Win a Free stinger suit dive skin full body cover swimsuit featuring UPF50+ cover blocking >97.5% of the sun UV radiation, chlorine resistance, and full body lining (excluding sleeves) valued at $93.90USD! No purchase necessary!
To enter in the draw visit the free contest webpage and follow instructions provided, this is a limited time offer only.
Summer is here and it's time to hit the water!
Whether hot-weather plans include the pool, the lake or the beach, it's critical to protect the skin from the sun's ultraviolet rays. The next time going into the water, forget the old swimsuit - Treat the skin to EcoStinger sun protection swimwear!
EcoStinger specialize in unique, eco-friendly and UV protective swimwear and clothing, made from a lightweight, durable, and fast-drying fabric that outperforms traditional swimwear fabrics such as Lycra, Nylon, Spandex, Elastane or Polyamide. EcoStinger products provide the highest quality in sun protection wear worldwide.
The construction of is of one-of-a kind knitted yarn material protects the skin from both UVa and UVb rays, with a rating of UPF50+, blocking more than 97.5% of the sun's ultraviolet radiation. EcoStinger's fabric contains no chemicals, so it's environmentally friendly. It releases sweat and allows the skin to breathe. If worn tightly, it can also provide muscle compression, help blood circulation, and enhance performance in the water. EcoStinger swimwear and other clothing items are soft, comfortable, and fit like a second skin, are also chlorine resistant, which helps to prolong the life of the apparel, prevent color fading and maintain elasticity.
Originally created with competitive water sports in mind, EcoStinger sun products are perfect for swimming, sailing, diving, snorkeling, surfing and all other sea and pool activities.
EcoStinger products feature a complete line of sun clothing, UV protection swimwear, stinger swimsuits (or dive skins) that help protect from jellyfish stingers and sea lice, and full-body swimsuit covers for men, women and kids.
If ready for summer! Visit http://www.ecostinger.com to see the full line of amazing, earth-friendly sun protective wear and take advantage of the latest discount coupon codes today!
The skin deserves the best protection! Cover up with EcoStinger's superb quality full-body cover UV swimsuits to maintain a healthy and young looking skin!