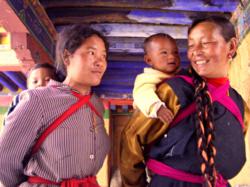 Lhasa, Tibet (PRWEB) July 14, 2012
Tibet Travel Coop, a Tibetan-run organization promoted to sustainable and responsible tourism, now offers homestays in Kham and Amdo for university students and adventure travelers. The homestays also feature volunteer opportunities designed to benefit local communities and foster cultural understanding.
Because the Chinese government does not permit foreigners to stay with families in the Tibet Autonomous Region (TAR), Tibet Travel Coop arranges homestays in the Tibetan regions of Amdo and Kham, which are located outside the TAR in the Chinese provinces of Sichuan, Yunnan, Gansu and Qinghai. These lesser-known areas don't require permits, so foreigners have more freedom to travel, explore and discover the local culture.
Homestay trips support local families and offer a unique cultural immersion experience for travelers. The focus of Tibet Travel Coop's tourism is on community and service, not pre-packaged tours. Guides and homestay families are local Tibetans recruited and trained by the Coop to host western travelers. Part of Tibet Travel Coop's mission is to enable rural Tibetans to gain skills and knowledge that will help them earn money and sustain their livelihoods.
Travelers stay with Tibetan families in their homes, and participate in daily activities such as working in the fields, herding yaks, preparing meals, helping children with their homework, and assisting in family chores. Tibet Travel Coop can also arrange volunteer projects related to health, education, environment and community-led initiatives. In the past, professional groups have offered medical care, dental work, and health education. Students and scholars can also take this opportunity to practice or learn local dialects.
Tibet Travel Coop works with universities, travel companies, and private groups to offer customized itineraries based on their interests and needs. Most travelers prefer to stay for 1-2 weeks in one community composed of several small villages. In addition to the volunteer work these areas also offer hiking, horse trekking, monastery visits, and visits to nomad camps.
Homestay trips can be arranged year-round. The most popular months to travel are April to November, but a growing number of people are also taking winter trips. The winter experience is very different from summer, as there are fewer tourists and more cultural festivals, including Losar (Tibetan New Year) and Monlam, the Great Prayer Festival.
Tibet Travel Coop is a collection of local Tibetan travel agencies and guides working together to promote authentic travel experiences while contributing to the sustainability of host communities and their culture.