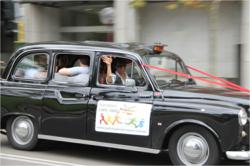 Any of our fantastic corporate team events will build friendships, strengthen bonds, ignite team spirit, and create memorable experiences that will be talked about for years to come.
Sydney, AU (PRWEB) July 13, 2012
Sports lovers across Sydney, Australia can now celebrate the world's foremost athletic competition, the Olympic Games, as Team Bonding offers fun team activities dedicated to the prestigious sporting event. The 2012 Olympic Games, a celebrated sports competition that is conducted only every four years, will be held this year in London, United Kingdom from July 27 to August 12. Representatives from Team Bonding invite groups to welcome the Summer Games by engaging in the Olympics Quiz, a variation of the company's classic Team Trivia activity created specifically for this year's Games.
Directors from the Sydney-based events company encourage companies to hold such an activity for their team stating that the Olympics Quiz is designed for the amusement of all, even members of the group who are not really sports enthusiasts:
"Don't fear; the Olympics Quiz is not just for sports nuts! This will be a high energy and diverse event, featuring questions on many topics, some only loosely based on the Olympics, and will appeal to those with a broad general knowledge and a sense of fun."
The Olympics Quiz consists of two hours of quiz-style rounds interspersed with a few quick games and activities. Groups interested in hosting the activity can also choose to cater food, such as lunch or dinner, during the event.
Spokespersons from Team Bonding also recommend other more rigorous corporate team building events to usher in the 2012 Games, such as the Mini Olympics. This activity is appropriate for larger groups, and consists of three major events: Race Meet, Ball Sports, and Field Meet. Each sporting event covers five short games, including run mat and multi-leg relay for the Race Meet, and fly ball and amoeba race for Ball Sports. The Mini Olympics is designed to foster bonding by pitting colleagues against each other in a friendly Olympic-style competition:
"Your group will be divided into smaller teams of 9 - 12 people. Each are allocated a country, they will prepare a national "cheer" and are encouraged to support each other throughout the event," state representatives of the company.
On the other hand, Londoners in Sydney who cannot watch the Olympic Games in the UK can get a taste of home by hosting a London Cab Rally for fellow colleagues. This Amazing Race-style event has teams of five traveling in London cabs as they compete to find hidden treasures and complete tasks set in various locations across Sydney. The course includes the world renowned Sydney Opera House, and other delightful destinations such as Rushcutters Bay, Chinatown, and Luna Park. Participants then finish the race by completing Team Bonding's famous "Paparazzi Challenge" in Circular Quay before heading over to a local pub for celebratory drinks.
Besides offering Olympic-themed activities, Team Bonding also caters other team building ideas that are guaranteed to boost group morale and promote good relations among company members. These include unique events such as Murder Mystery, a whodunit activity that lets teams practice crime-solving skills, and Creativity Games, which incorporates an innovative format that exercises team members' imagination and ingenuity.
With such exciting team events, Team Bonding representatives promise to help companies by nurturing relationships among workers, just as the Olympic Games forges bonds among countries:
"Any of our fantastic corporate team events will build friendships, strengthen bonds, ignite team spirit, and create memorable experiences that will be talked about for years to come."