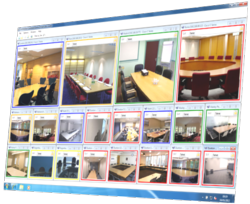 With the Conference Command Centre, you can monitor numerous cameras from multiple rooms, all from a single interface. Not only this, but you can control the cameras pan, tilt and zoom capabilities using intuitive control sliders to quickly and accurately
London (PRWEB UK) 20 July 2012
Jembasoft today announced the launch of the Conference Command Centre video conferencing management and support tool, an enterprise-level software solution delivering a multi-vendor video conferencing estate management solution.
Jembasoft sales director Matt Rose, explained that the Conference Command Centre was brought to market to address many of the frustrations associated with existing conference management solutions.
"Most of the video conferencing industry's big players, such as Cisco, Polycom and Lifesize, offer a variety of vendor specific software-based management solutions, but there are a number of critical features missing from each of them. Conference Command Centre was conceived to address these shortfalls and delivers a management environment that enables organisations to maximise their investment in video by driving high adoption, ensuring minimal downtime and delivering a consistent professional experience."
The existing conferencing management solutions provided by the major video vendors offer limited control and monitoring capabilities outside of their own product range. With Conference Command Centre we have delivered a centralised software solution that is truly vendor agnostic and which improves upon the feature-set provided by the management platforms on the market today.
"With the Conference Command Centre, you can monitor numerous cameras from multiple rooms, all from a single interface. Not only this, but you can control the cameras pan, tilt and zoom capabilities using intuitive control sliders to quickly and accurately position the camera to exactly where you want it to be."
The Conference Command Centre provides a real time 'at a glance' view of the entire video conferencing estate and helps support technicians effectively troubleshoot and address issues with video conference meetings. Schedulers can quickly check if rooms are occupied in real time to enable ad-hoc use, or to provide access for service personnel.
The Conference Command Centre platform represents each device as a window on the main screen and operatives can quickly toggle between the video systems using the easy-to-use graphical user interface. The user interface includes camera control sliders and a number of user configurable command hotkeys. Technicians can click directly to the telnet command window which allows full control of the device. This function enables the support technician to quickly issue any command from the manufacturer's API command list. In high-pressure situations, where your company's CEO is sitting in a video call and something goes wrong the support technician needs to react quickly; the Conference Command Centre offers a significant improvement on existing management suites".
For further information on the product, please visit the Jembasoft website. The Conference Command Centre solution is now available for trial or purchase.
Jembasoft is a British software company specializing in software solutions for the video conferencing industry.