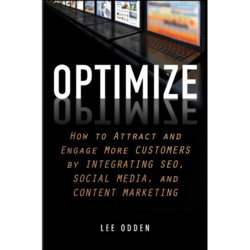 Minneapolis, MN (PRWEB) July 19, 2012
TopRank Online Marketing is pleased to host the official Optimize book launch along with sponsors Vocus and Digital People on July 25, 2012. The event will be held from 5:30pm-7:30pm at Aria at the Jeune Lune in Minneapolis, MN. Over 200 of Minnesota's top Marketing and PR professionals have already registered for the event.
Tickets for the Optimize book launch event are limited. Register here.
Event Agenda
5:30pm – 6:00pm: Registration, Networking, and Light Appetizers
6:00pm – 6:30pm: A Glimpse Into Optimize from Lee Odden
6:30pm – 6:45pm: Q and A
6:45pm – 7:30pm: Book Signing, Networking, and Refreshments
This event will be brought to you Minnesota style, lake theme and all. Author and TopRank Online Marketing CEO Lee Odden will provide a glimpse into his new book with a special presentation titled: Optimize: How to Attract, Engage and Inspire the Customer Journey Online. This presentation will share a roadmap and customer-centric model for building and optimizing a more effective content marketing plan to help optimize how customers discover, consume and engage with content.
Today's digital consumer is bombarded with media, advertising and content every second they spend connected to an Internet enabled device. The sheer volume of digital noise has numbed responsiveness to traditional online communications. At the same time, major shifts in technology and consumer behaviors have created new opportunities for companies ready to embrace adaptive and customer-centric models of communications like those outlined in Optimize.
Relevant for both marketing and public relations, Optimize provides insight into the planning, implementation and scale of optimized digital marketing and communications across the customer lifecycle. The result? More sales and longer, more meaningful customer and brand relationships.
When asked about the upcoming launch party and his book Optimize Odden shared, "Minnesota is home to some of the top digital marketing and PR companies in the U.S, as well as some of the top consumer brands, including Best Buy, Target, and General Mills. Even with all that talent there is as much opportunity as ever in Minnesota to optimize marketing and communications to be more effective." In regards to his book Optimize, Odden says: "This event is a celebration of Optimize as a go-to resource for planning and implementing a holistic Internet marketing program for the converging world of marketing and public relations."
To attend the Optimize Minneapolis book launch, please register here.
Thank You To The Optimize Book Launch Party Sponsors
Corporate Sponsors include: Vocus, Digital People, and TopRank Online Marketing. For information on sponsoring please visit: Sponsorship Information
Media sponsors include: MN AMA, MN IABC, MIMA, MN PRSA, SMBMSP, and the Minnesota Bloggers Conference.
Praise for Optimize
"Blending the gears and guts of search with the passion and artistry of content is a brilliant move. If I were lazy, I could cheat and use Lee Odden's book as my roadmap for this coming year's business."
-Chris Brogan, President, Human Business Works, and New York Times bestselling co-author of Trust Agents
"Content marketing has been a hot subject recently, but what good is your content if no one can find it? Odden takes a methodical and thorough approach to this important aspect of content marketing. Whether you're from an agency or a brand, Optimize is the playbook you'll need to run an effective program."
-Scott Monty, Global Digital & Multimedia Communications Manager, Ford Motor Company
"Content, search, and social are like the Three Musketeers of Marketing. Optimize shows you how in very specific, measurable ways—you can put them to work for your business."
-Ann Handley, Chief Content Officer, MarketingProfs, and coauthor of Content Rules
"Optimize highlights a test, learn and scale philosophy – vital to winning customer's attention given the ever changing landscape of the web. Odden provides rich insight towards digital continual improvement; integrating SEO, social media and content strategy."
-Amy Lamparske, Senior Digital Advisor, Walmart
"Lee Odden is one of the true thought leaders in an industry where you are not always sure who to trust. Well, you can trust this book to help take your online and content marketing to the next level. Lee details both the strategy and the tactics to position your company as the true industry expert online. Everyone has content, but not everyone knows how to optimize that content for success. Lee shows you how in a way that makes sense for large or small brands alike."
-Joe Pulizzi, Founder, Content Marketing Institute @juntajoe
About The Author Lee Odden
Lee Odden is the author of Optimize and is also the CEO of TopRank Online Marketing, a digital marketing agency specializing in helping Fortune 1000 companies grow brand visibility and sales through online PR, search, social media, email and content marketing. He has been cited in the Wall Street Journal, The New York Times and Forbes for his expertise. He is also the editor of Online Marketing Blog, one of the most popular marketing blogs on the Internet.
Company: http://www.TopRankMarketing.com
Book: http://OptimizeBook.com