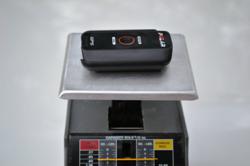 G5 GPS clip allows you to attach the sensor to jersey pockets, or the waist band of shorts, which was a real stroke of genius and a game changer because now you don't even notice the devices presence
Bozeman, MT (PRWEB) July 14, 2012
Polar released the Polar RCX5 series of heart rate monitors in 2011. The GPS version only had an armband option at the time to carry the small, 2 ounce, G5 GPS sensor.
"Armbands aren't real popular with athletes because you can feel the attachment and it can present chafing issues, especially for runners", says Rusty Squire, President of the Heart Rate Watch Company. He adds, "The new Polar G5 GPS clip allows you to attach the sensor to jersey pockets, or the waist band of shorts, which was a real stroke of genius and a game changer because now you don't even notice the devices presence".
Polar introduced the new clip with its Polar RCX5 Tour de France series in the Spring of 2012 and then added the clip to the Polar RCX3 GPS which was released one month ago. So far the feedback from testers is that the clip is a far preferable option.
"A little device that costs less than $10 entirely changes the experience for the better" says Squire.
The Polar RCX5 GPS and the Polar RCX3 GPS with the clip have significantly improved the user experience. "The cool thing is that this little clip is very affordable, protects the device and makes the device go unnoticed", says Squire. He adds, "The versatility of GPS for use at any outdoor sport is unparalleled and this has definitely improved the user experience".
For those who bought early versions of the Polar RCX5 G5 the clip is available as an add-on accessory. The G5 GPS clip costs just $9 and attaches to any pocket or waistband.
"It struck me as odd that we would announce such a small accessory, like the G5 GPS clip, but after talking to testers everyone was raving about the clip over the armband, so we felt we needed to tell people", says Squire.