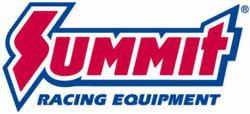 Tallmadge, OH (PRWEB) July 13, 2012
As the largest manufacturer of reproduction parts and accessories for early Mustangs, Scott Drake sets the standard for fit and finish. Its products can be found on some of the highest-quality Mustang restorations in the country.
Summit Racing has a large selection of Scott Drake products including:

Seat upholstery, carpeting, headliners, consoles, dash controls, door hardware, gauges, and lighting
Grilles, vinyl tops, bumpers, weatherstripping, lights and lenses, and hood scoops
Heating and air conditioning parts, cooling system components
Transmission conversions, shifters, and drivetrain components
Exhaust systems and components
Valve covers, oil pans, engine accessory brackets, bolts, and belts
Wiring harnesses and electrical parts
Fasteners, gaskets, seals, lines, and hose
Factory-matched touch-up paint and vinyl dye
See Summit Racing's entire selection of Scott Drake products here.
Summit Racing Equipment
http://www.SummitRacing.com
1-800-230-3030