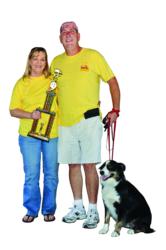 The winner of our KCBS professional competition will be the West Virginia State Champion and move onto the next level of competition nationally
Martinsburg, WV (PRWEB) July 16, 2012
The 6th annual Pickin' in the Panhandle will celebrate the Mountain State's best barbeque with two competitions at the Lazy A Campground in Hedgesville, West Virginia, September 7-9, 2012. "These competitions showcase the best in BBQ, with teams coming from all over the mid-Atlantic and as far away as Missouri to compete," says Jennifer Jensen, co-director of the festival. "The winner of our KCBS professional competition will be the West Virginia State Champion and move onto the next level of competition nationally." Pickin' is also host to a backyard BBQ competition with cash prizes for the winner. This year, they are bringing back the Tastin' Tent, where attendees can sample the contest submissions and vote for their favorite.
On Saturday, September 8, professional chefs will battle for the title of Grand Champion at the Kansas City Barbeque Society's (KCBS) West Virginia State BBQ Championship. With KCBS-certified judges determining the winner, each team will submit in four categories: chicken, ribs, pork and brisket. Special "non-KCBS" categories, such as Cook's Choice, Smokin' Sweets, and Party Pig are optional for all teams. Sunday will feature the backyard BBQ cook-off with the same categories. Team registrations will be accepted for both categories until August 31, space permitting.
Attendees wanting a taste of the BBQ competition can visit the Tastin' Tent by making a donation to the Back Creek Valley Volunteer Fire Company. Once inside, festival-goers can sample submissions from participating teams and vote for their favorite. The People's Choice winner will be awarded a trophy and a free entry into the 2013 competition.
Tickets for Pickin' in the Panhandle are available at http://www.PanhandlePickin.com and the Martinsburg-Berkeley County CVB, located at 115 N. Queen Street in downtown Martinsburg. Tickets are also available at Outdoor Express RV in Falling Waters. Weekend passes are $60, one day passes are $25, and children ages 12 and under are admitted free. For additional information, visit http://www.PanhandlePickin.com or follow them on Facebook at http://www.facebook.com/PanhandlePickin.