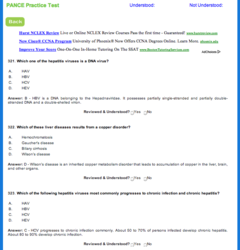 This free revised PANCE practice exam reflects the latest cutting-edge medical and surgical knowledge in the field.
Boston, MA (PRWEB) July 16, 2012
This past week, PracticeQuiz.com, a Boston-based test preparation company, unveiled its latest free PANCE practice test with refreshed and expanded content. The upgraded practice exam now contains more questions than the actual PANCE exam.
"Despite the popularity of our first version of this PANCE practice quiz on PracticeQuiz.com, it was time to revamp the content," notes Ted Chan, founder of PracticeQuiz.com. "This free revised PANCE practice exam reflects the latest cutting-edge medical and surgical knowledge in the field."
The Physician Assistant National Certifying Exam, PANCE, is a 300 multiple question, computer-based test designed to test a prospective physician assistant's professional knowledge and comprehension of medicine. Certified physician assistants must recertify every six years by taking and passing the Physician Assistant National Recertifying Exam (PANRE).
"Aspiring physician assistants are going to love this new free practice exam," adds Paul Chung, a product development assistant at PracticeQuiz.com. "This revised PANCE practice quiz on PracticeQuiz.com now features 329 questions, which is more than the last version by over one hundred questions. In addition, we expanded answer explanations and reevaluated existing questions so that the practice exam more closely reflects the actual exam's topic breakdown."
PANCE exam topics include: cardiovascular system, dermatologic system, endocrine system, clinical intervention, pharmaceutical therapeutics, applying basic science concepts, infectious diseases, neurologic system, psychiatry/behavioral, reproductive system, among many other additional key PANCE exam topics.
"As exams content and formats change with time, it is obviously very crucial that PracticeQuiz.com revises its free practice quizzes so that they reflect the most current standards for the exam," says Chan. "Over the next few months, PracticeQuiz.com will continue to work on revamping existing content in addition to introducing new exam titles."
PracticeQuiz.com is an online test preparation enterprise based in Boston. The website's social mission is to increase access to education by providing high-quality test preparation content for free. Follow PracticeQuiz.com on Twitter (@PracticeQuiz) for the latest news on exam updates and upcoming releases!