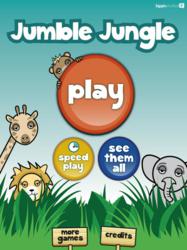 My 2-year old daughter is obsessed with naming animals and making animal sounds, and that's why we created Jumble Jungle.
Cupertino, CA (PRWEB) July 16, 2012
Children who want to enjoy endless hours of fun, and parents who want to give their kids a head-start in school and life, can both get find what they're looking for in the new flash card and matching app Jumble Jungle.
Designed by Bippin Studios, Jumble Jungle invites children to easily swipe away various panels to find ones that match and depict a fun and friendly animal, such as a koala bear, elephant, zebra, giraffe, lion, hippopotamus, and others. The app's simple touch controls and ultra-clean interface are especially made for children.
Once found, the animal's delightfully-illustrated face springs to life, accompanied by an audio callout of its name, and great sound effects that match its natural sound -- such as a roar, a croak, a bellow and so on. Children can then touch the animal's face to watch it wiggle and move in wonderful ways.
Plus, for an added challenge, children can try the app's Speed Play mode and see how many animals they can find in two minutes.
"My 2-year old daughter is obsessed with naming animals and making animal sounds, and that's why we created Jumble Jungle," commented Richard Barrett, co-founder of Bippin Studios. "And while the app is designed to provide children with hours and hours of fun, it's also designed for learning and development, particularly around building vocabulary, and improving coordination and motor skills. Those are key areas that can give children a head start in school and, ultimately, in life."
Jumble Jungle, the fun and educational new animal-themed flash card and matching app for children, is available on iTunes for immediate download here. The app is compatible with iPhone 3GS, iPhone 4, iPhone 4S, iPod touch 3G, iPod touch 4G and iPad, and requires iOS 5.0 or later.
For more information or media inquiries, contact Mark Johnson of appshout! on behalf of Bippin Studios at +1 408 757 0156 or press (at) appshout (dot) com.
About Bippin Studios
Based in London, Bippin Studios is the vision of two friends -- Richard Barrett, a Designer and Tim Dhillon, a Developer -- who combine their talents to create apps that are fun and meaningful for users of all ages. One of their first apps, Ravebox, is designed for 'old skool ravers" who want to re-live their memories of raving in the early 90s. The company also plans on releasing "Jumble Farm" and many other children's apps in the coming months.