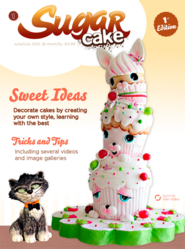 Cupertino, CA (PRWEB) July 13, 2012
Sugar Cake covers topics related to techniques, suggestions and innovations that are directly related to Cake Design. With the participation of renowned international Cake Designers, in all editions, Sugar Cake is sold worldwide in three languages: English, Spanish and Portuguese.
Sugar Cake takes advantage of digital publishing capabilities to create a dynamic and interactive magazine. It's full of photos and videos, 360o photo rotations, detailed tutorials supported with photos and small videos.
The Points of Sale are the Apple Store and Google Play. Sugar Cake is a bimonthly publication and it's available as single issue or as subscription (bimonthly and yearly). The magazine main sections are:

Cakes showcase (with photos galleries, videos and 3D representations)
Step by step tutorials (detailed cake decoration instructions supported by image galleries and videos)
People's Book (Interviews with renowned cake designers that share a bit of their story)
Tips (useful tips and tricks)
Techniques (emphasis on different techniques on every edition)
Recipes (to make sure the readers creations are also delicious).
DigitalMags publishes two additional magazines: iTech, focused on gadgets and
LifeStyle, a magazine for the modern men.
Sugar Cake is available on iTunes for immediate download here. The app is compatible
with iPad and requires iOS 4.0 or later.
For more information or media inquiries, contact Mark Johnson of appshout! on behalf of Digital Mags at +1 408 757 0156 or press(at)appshout(dot)com.
About Digital Mags
DigitalMags is a publisher created to develop magazines for digital supports only. Our titles will be available for iPad and Android tablets, at the App Store and at Google Play, the former Android Market.
In addition to believe that the future of printed press is the digital reading in these platforms, we want to have an innovative role and create a new way to produce magazines: with innovation, dynamic and interactive. Our magazines have embedded video, image galleries, touch and see interactivity, with both vertical and horizontal view.
The brands that advertise in our magazines will have several advantages, because their ads dont have to be static, like in paper. Advertising pages will be dynamic too, with videos, music, 3D images and hyperlinks to their sites our stores.
We are also an ecologic enterprise that save thousands of trees, as we abolish the use of paper in our products.
Our motto is We Make the Future... and we believe in an innovative, creative and digital future!
Learn more: http://d-mags.com