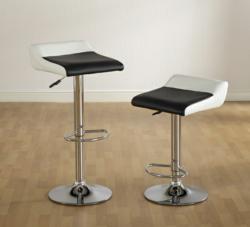 Swivel Bar Stools Available with Reduced Prices at FurnitureInFashion
(PRWEB UK) 15 July 2012
Swivel bar stool is a budget friendly and space saving solution, says FurnitureInFashion as it unveils the price reduction at its extended swivel bar stool line. FurnitureInFashion is offering a price reduction up to 20% on its innovative and high end swivel bar stools. The spokesperson from FurnitureInFashion said, "Our range of swivel bar stools comprise of neutral colors, ergonomic geometry and clean lines. These Bar Stools can add serious style punch for their modest size." The owner of FurnitureInFashion Asad Shamim explained, "It is not very easy to find cost-effective ways to make our homes appear larger. Many people opt for renovation which is definitely not an option for many. In such a situation, there is a need to be creative. For providing creative and practical solutions, we have reduced prices of swivel bar stools to bring style and affordability to your home."
FurnitureInFashion is a UK based online retail company and has been supplying quality furniture items in some of the major cities within the UK. The company maintains a broad range of bar stools however swivel bar stools have been hot sellers. Asad Shamim explained the reason for focusing on swivel bar stools, "The designers at FurnitureInFashion are focused on developing highly effective but modestly priced seating for your indoor bar area or kitchen. An illusion of space can be created by swapping the conventional seating with backless swivel bar stools. Our swiveling bar stool comes in a range of heights. Customers only need to take the measurement of their table or counter top. A rightly picked swivel bar stool will develop a vision of space and airy space."
Asad Shamim was asked to give details about some of the most popular designs that are available at reduced prices. He said, "FurnitureInFashion has reduced prices of the most stylized models of swivel bar stools. Customers can enjoy price reduction at swivel bar stools with a back rest and foot rest. Many backless swivel stools with footrests are also available." Asad also adds that mostly swivel bar stools comprise of base, foot rest and very smooth gas lift action. In addition to this, these bar stools have been constructed with latest method and finest quality materials.
When asked if there were any specific instructions that should be considered while purchasing the swivel bar stools, Asad Shamim gave some silent advice.
"FurnitureInFashion has categorized swivel bar stools in outdoors and indoors ratings. Swivel bar stools for outdoor use can tolerate wind, rain and the relentless sun. By buying a durable and suitable swivel bar stool for outdoor use, you can enjoy it for many years to come."
Providing guidance on buying swivel bar stools for indoors Asad said, "For indoors, deciding on the color and material is critical. Customers can buy lighter colors for small rooms while retro styled or cushioned stools can add old world charm." With the stylish and modern swivel bar stools at FurnitureInFashion, the customers can make their homes come to life for a very reasonable price.
FurnitureInFashion is offering the reduced prices on swivel bar stools for a limited time so the customers should participate quickly in the sale and enjoy the savings up to 20% on swivel bar stools, while stocks last. FurnitureInFashion is one of the largest online retail stores in the UK with its showroom located in Bolton. The company has been providing high quality German manufactured furniture at very affordable prices. FurnitureInFashion provides all home solutions including furniture for bedroom, living room, dining room, hallway, bathroom, bar and office. For further information and detail on swivel bar stools visit http://www.furnitureinfashion.net