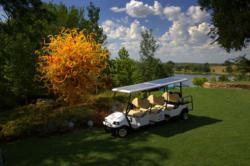 "The Dallas Arboretum is extremely thankful to Green Mountain and the Sun Club for its generous donation of these much needed solar trams and carts," said Mary Brinegar, president, Dallas Arboretum.
Dallas, TX (PRWEB) July 13, 2012
The sprawling 66 acres of the Dallas Arboretum and Botanical Garden now shines a little brighter thanks to the addition of six (6) new solar-powered trams donated by the Green Mountain Energy™ Sun Club™ on July 12. The Sun Club is a voluntary program in which Green Mountain residential customers can make monthly contributions toward solar generation systems for non-profits.
The dedication took place amongst the striking Chihuly glass sculptures on exhibit at the Dallas Arboretum and was attended by local Sun Club members, representatives from Green Mountain and the Arboretum as well as 900+ attendees of the popular Concerts at the Arboretum series. As part of this one-of-a-kind solar dedication, Sun Club members were invited to explore the grounds of the Dallas Arboretum in the trams and enjoy the live music of the Good Question Band. The solar-powered trams were made possible by a $65,000 Sun Club donation that was announced April 2012.
"The Dallas Arboretum is extremely thankful to Green Mountain and the Sun Club for its generous donation of these much needed solar trams and carts," said Mary Brinegar, president, Dallas Arboretum. "We are committed to educating our visitors on the need and benefits of green energy."
The six trams have solar panels installed on their roofs and are part of a fleet of carts that transport visitors who need assistance getting around the Dallas Arboretum. Volunteers drive the trams and guide visitors through the grounds, making sure every visitor has a memorable experience at the famous outdoor attraction.
The three larger trams were fitted with 460-watt (W) solar arrays which collect enough energy from the sun to power the cart with renewable energy for 10 miles at a time, while the three smaller trams utilize 190-W arrays and can run about 7 miles between charges. With these trams, the Dallas Arboretum offers a mode of transportation that reflects its commitment to sustainability while uniquely showcasing and educating visitors on renewable energy.
As part of the dedication, local Sun Club members were invited to tour the Arboretum outside of park hours, attend a reception, take a spin in the new solar-powered trams and help flip-the-switch during the official dedication ceremony.
"We enjoyed bringing together local Sun Club members for this event and making them part of the activities surrounding the dedication as their generous contributions made this all possible," said Paul Markovich, president of residential services, Green Mountain Energy Company. "Choosing renewable energy is a powerful way to make a positive impact on the environment, and I thank our Sun Club members for passing along that gift to local non-profits, like they did last night at the Dallas Arboretum."
Dallas Arboretum and Botanical Garden
The Dallas Arboretum and Botanical Garden is located on the southeastern shore of White Rock Lake at 8525 Garland Road, Dallas, TX, 75218. The Arboretum is open daily from 9am until 5pm. General admission is $15 for adults, $12 for seniors 65 and older, $9 for children 3-12, and free for Arboretum members and children two and under. On-site parking is $10. The Arboretum is wheelchair accessible and tram service is available for the mobility impaired. For more information and other events, call (214) 515-6500 or visit the Arboretum's website at http://www.dallasarboretum.org.
The Dallas Morning News is the principal partner of the Dallas Arboretum. The Arboretum is supported, in part, by funds from the Dallas Park and Recreation Department.
Green Mountain EnergyTM Sun ClubTM
Green Mountain EnergyTM Sun ClubTM is a program where Green Mountain residential customers have the opportunity to give back to deserving non-profit organizations through the promotion of solar power. Direct monthly contributions from customers go toward the funding of solar installations. Since the program's founding in 2002, Sun Club members have helped install almost 500 kilowatts of solar power, preventing over 4.1 million pounds of carbon dioxide (CO2) emissions. That equals 4.5 million miles not driven or 10.1 million aluminum cans recycled. For more information, visit http://www.gmsunclub.com.
Green Mountain Energy Company
Green Mountain, the nation's leading competitive retail provider of cleaner energy and carbon offset solutions, was founded in 1997 with the mission to "change the way power is made." The company is the longest serving green power marketer in the U.S. and believes in using wind, sun and water for good. Green Mountain offers consumers and businesses the choice of cleaner electricity products from renewable sources, as well as a variety of carbon offset products and sustainable solutions for businesses. One of Green Mountain's largest customers is the "world's most famous office building," the Empire State Building in New York City. Green Mountain customers have collectively helped avoid over 19.4 billion pounds of CO2 emissions. Visit us online at http://www.GreenMountain.com and learn more about our campaign for good at http://www.greenmountain.com/forgood.