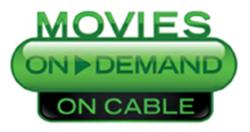 Friends with Kids is a smart, frankly adult movie with a highly appealing couple at its core.
National Harbor, MD (PRWEB) July 13, 2012
REELZCHANNEL's Leonard Maltin, host of "Maltin on Movies" and author of the New York Times bestseller, "Leonard Maltin's 2012 Movie Guide," reviews "Friends with Kids," one of a number of comedies coming throughout July to Movies on Demand on cable.
"Friends with Kids," said Maltin, is a "smart, frankly adult movie with a highly appealing couple at its core."
"Friends with Kids" is available on Movies on Demand on cable before it's available on DVD. Movie lovers searching for other new releases, can access a list of the latest films now playing on Movies on Demand at http://www.rentmoviesondemand.com.
Here are some of offerings on Movies on Demand in July:

American Reunion (started 7.10)—starring Jason Biggs and Eugene Levy
Friends with Kids (starts 7.13, pre-DVD)—starring Adam Scott and Jennifer Westfeldt
Casa di Mi Padre (starts 7.17)—starring Will Ferrell
Lockout (starts 7.17)—starring Guy Pearce
The Three Stooges (starts 7.17) – starring Sean Hayes, Jane Lynch and Sofia Vergara
Footnote (starts 7.24)— Shlomo Bar-Aba and Lior Ashkenazi
Silent House (starts 7.24)—starring Elizabeth Olsen
About REELZCHANNEL
REELZCHANNEL—TV About Movies® is the only cable and satellite network delivering entertaining and informative programming that is all about movies, including the celebrities, fashion, music and stories behind the stories. The network is also home to ambitious television events, mini-series and series featuring big stories and big stars as seen with the Emmy®-winning mini-series The Kennedys. With shows featuring movie and entertainment experts, including Leonard Maltin, Richard Roeper and Sam Rubin, viewers get trusted insight into movies wherever they're playing, whether in theaters or at home.
REELZCHANNEL reaches more than 63 million homes on DIRECTV channel 238, Dish Network channel 299, Verizon FiOS TV channel 233, AT&T U-verse channels 799/1799HD and cable systems nationwide. Find REELZCHANNEL in your area by entering your zip code at http://www.reelz.com/watch. Owned by Hubbard Media Group, REELZCHANNEL is headquartered in Albuquerque, NM with an entertainment bureau in Los Angeles.
For more information, please contact the REELZCHANNEL Media Line
877- REELZTV (733-5988) / pr(at)reelz(dot)com
About Movies on Demand® On Cable
The Movies on Demand® initiative is an integrated marketing campaign produced by the Cable & Telecommunications Association for Marketing (CTAM) Marketing Co-op. The cable company sponsors include Armstrong, Atlantic Broadband, BendBroadband, Bright House Networks, Comcast, Cox Communications, iO TV, Mediacom, Suddenlink and Time Warner Cable. The studios include 20th Century Fox, Lionsgate, NBCUniversal, Paramount, Relativity, Sony/Columbia, Summit Entertainment, The Walt Disney Studios and Warner Bros. Entertainment, Inc. The initiative is also supported by CTAM corporate partner, iN DEMAND.
For Media Inquiries Contact:
Jason D. King, ABC
Senior Director of Communications & Media Relations
CTAM
301.485.8914
Jason(at)ctam(dot)com