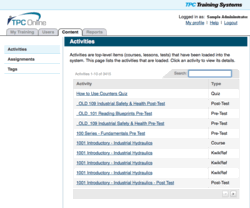 It is important to expand our online training library to meet our clients' diverse training requirements," said Ki Choi VP Training Solutions, TPC Training Systems. "Providing new e-learning content helps TPC continue to offer a complete training solution
Buffalo Grove, IL (PRWEB) July 17, 2012
TPC Training Systems announced the addition of Electrical Safety in the Workplace—Understanding NFPA 70E® to their e-learning portal, TPC Online™, by the middle of next month.
"It is important to expand our online training library to meet our clients' diverse training requirements," said Ki Choi VP Training Solutions, TPC Training Systems. "Providing new e-learning content helps TPC continue to offer a complete training solution."
TPC Online™ allows users and organizations to train interactively while allowing administrators the ability to assign, track, and report on technical skills training at one location or throughout the organization.
Electrical Safety in the Workplace—Understanding NFPA 70E® Introduces the trainee to the purpose of NFPA 70E and explains the history of its creation. After discussing the relationship between OSHA and NFPA 70E, the course moves through each article of the standard, highlighting the important points in each. The course concludes with a lesson on the annexes and supplemental material found in the NFPA 70E Handbook.
For additional information about TPC Training Systems and TPC Online™ visit http://www.tpctraining.com. You can also contact us at 800-837-8872.
About TPC Training Systems:
TPC Training Systems is a division of Telemedia, Inc. a privately held company, with headquarters in Buffalo Grove, IL. A leader in industrial skills and safety training, TPC offers a variety of products and services to support clients' technical and safety skills development needs. TPC's self-study manuals, eLearning programs, and instructor-led training classes have been used at more than 40,000 client sites globally to train over 3.5 million skilled workers.