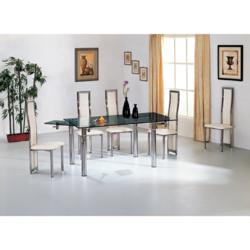 FurnitureInFashion Announces Summer Furniture Sale up to 80% off
(PRWEB UK) 17 July 2012
Enjoy the unbelievable and finest summer sales up to 80% on every Furniture item at FurnitureInFashion. In addition, the summer furniture sale festival is also offering special discount offers over the different purchases to its customers. This exquisite sale includes everything from dining, bedroom and living room furniture to hallway, office and bar furniture. It also includes the various home accessories for decoration at very affordable prices. The owner of FurnitureInFashion at the announcement of summer sales said, "FurnitureInFashion is known for providing the cheapest furniture for home and office. Continuing the same tradition, we are now offering extremely lucrative sales on every item for our customers. Customers can change the overall look of their home with our summer sale this year."
The summer furniture sale is available for both in store and online as well. The customers can either choose from the online catalogue comprising of over 7000 products or can directly visit the showroom located in Bolton, UK. In addition to a big summer sale up to 80%, FurnitureInFashion is awarding its precious customers different discounts on purchases. Asad Shamim said, " FurnitureInFashion has been able to expand its business due to its loyal and precious customers. So it was now our time to reward our precious customers with affordability, convenience and comfort. Customers can now avail the discount rates and enjoy a cheap shopping experience this summer."
Currently, FurnitureInFashion is offering three exclusive discount offers over three different amounts of orders. These discounts in addition to the summer furniture sale up to 80% will give the customers their dream affordability and style. The first discount offer by FurnitureInFashion is an extra 5% off on orders that amount over £750 in the current sale of up to 80%. The discount rate and sale is applicable on almost all items from living room furniture to simple home accessories.
FurnitureInFashion is offering incredible flexibility in its sales by offering sale and discounts over all the furniture items. Asad said, "As we believe in offering complete home solutions so we have included almost every furniture item in our current summer sale offer."
In addition to summer sale up to 80%, the customers can avail another discount of extra 10% on orders above £ 1500. FurnitureInFashion is offering different price ranges for customers to suit their budgets in the best possible way. Another attractive discount offer by FurnitureInFashion is extra 15% off on order above £ 3000. The owner of FurnitureInFashion said that the company is offering discounts even to customers who can afford big purchases. Asad explained how the online customers can avail the discount coupons.
"Customers can avail the discount coupons offered by FurnitureInFashion online by simply making an account with our website. The customers can add as many items in their basket. After completing the shopping, they can simply add the discount code in the box marked "Coupon Code". With these simple steps, the customers will be able to take advantage of the discounts offered by FurnitureInFashion."
Customers will be able to make huge savings with FurnitureInFashion's summer sale as it is also offering fantastic discounts over the products already on sale. Anyone can claim the discount coupons by either visiting the showroom of FurnitureInFashion or by maintaining an account with the website of FurnitureInFashion.
FurnitureInFashion is a UK based online retail business. It supplies furniture items from its German based warehouse and has a showroom in Bolton, UK. The company provides everything from umbrella stand wall art and room dividers to bedroom, bar stools and computer tables. FurnitureInFashion offers excellent free delivery within UK and has a fantastic customer service as well. For further information and details about the sale, visit http://www.furnitureinfashion.net