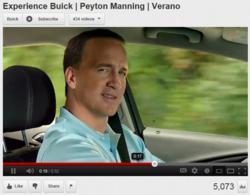 Charlotte, NC (PRWEB) July 14, 2012
The 20th Annual ESPY Awards for 2012 aired July 11th and it was an amazing night, especially for Peyton Manning. The ESPY Awards recognizes Sports Players and Teams for their exceptional performance.
Peyton Manning, a legendary quarterback was a Presenter and a real winner with Buick, as the commercial with Manning driving a Buick Verano was shown for the first time during this years' ESPYS. The commercial features Peyton calling an audible with the Buick Verano Onstar system's turn by turn navigation, just like he would on the field before he makes one of his amazing snaps. Manning in a statement regarding his recent Buick commercial said "It's definitely easier to call audibles in the Verano as opposed to the line of scrimmage, after I call audibles in the Verano, I don't get hit in the back." The spot was filmed in Greenville, Tennessee as reported by the Greenville Sun, as a few lucky people in town saw the star studded quarterback exiting the Buick Verano after the shoot one Sunday afternoon in June.
Manning had an emotional evening, as this year he says goodbye to his Indianapolis Colts and transitions into his new home with the Denver Broncos. To add to the emotion of the evening, the well composed quarterback was the presenter of the most coveted awards at the ESPYS, the Arthur Ashe Courage Award, which recognizes the most inspirational sports figures. This esteemed award was bestowed upon former University of Tennessee Women's Basketball Coach Pat Summit. Coach Summit was diagnosed with the early stages of Alzheimer's last year. After 38 years of coaching, she retired last April. Manning attended Tennessee which made his job as presenter to Summit, a more personal assignment. The audience congratulated Coach Summit with thunderous applause and a well deserved standing ovation. The Championship winning Coach was quoted on receiving her award," I am deeply touched, I'm going to keep on keepin' on, I promise you that."
Buick's decision to place the young, hot and ever popular quarterback in the driver's seat has made Buick dealers across the country like Scott McCorkle, owner of Liberty Buick GMC in Charlotte, NC hope for a boost in Buick sales. McCorkle played football in high school and at The University of Tennessee. He is a big fan of football and Peyton Manning. McCorkle shares Manning's love for the game and new Buick.
Manning is one of several notable celebrities to boast about Buick lately. The elite list of stars includes Supermodel Marisa Miller, Actor Ving Rhames and NBA player Shaquille O'Neal. With this A-list spreading the good word on Buick, Liberty might just have their hopes of higher sales recognized.