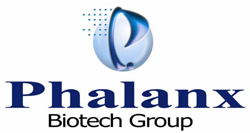 Belmont, CA (PRWEB) July 16, 2012
Phalanx Biotech Group announced today that they would be featured in an upcoming episode of Health Heroes.
Founded in 2002 by several leaders from the highly regarded Industrial Technology Research Institute (ITRI) of Taiwan, Phalanx Biotech Group has emerged as a leading manufacturer of DNA microarrays for basic research and genetic screening.
This particular episode will focus on the amazing breakthroughs being made in the field of genomic research. The completion of sequencing human genome has allowed for exciting advancements in science, technology, and new molecular diagnostic products. Health Heroes will be taking viewers in for a behind-the-scenes look at the research facilities making it all possible.
"Participating at the Health Heroes program gives us a unique opportunity to introduce CytoOneArray®, one of the most exciting products that we have developed in recent years," said Dr Shengwan Lee, CEO of Phalanx Biotech Group. "We are proud to be at the forefront of an era where high resolution chromosomal microarrays are poised to replace the traditional G-banded karyotyping as the first line for screening genetic abnormalities in both pre- and post-natal evaluations."
"The development of CytoOneArray® marks a significant breakthrough for the detection of developmental and intellectual delay disorders," said Barbara Perry, producer for the series. "It is an honor to be able to bring this story to the Health Heroes viewership."
In this segment, viewers will take a firsthand look at the Phalanx labs, and learn how technology being developed today is helping to improve the detection of genetic abnormalities worldwide. Health Heroes will be on location in Hsinchu, Taiwan, home of Phalanx Biotech Group.
About Health Heroes:
Health Heroes is a powerful TV series dedicated to defining and exploring today's latest medical advances in all areas of health and wellness. Written with both the industry professional and television audience in mind, Health Heroes educates, entertains and enlightens the lives of our viewers.
For more information visit: http://www.dmgproductions.org or call (866) 496-4065.
About Phalanx Biotech Group:
Phalanx Biotech Group, with operations in USA, Taiwan, and China, provides genomic products and services worldwide to academic, pharmaceutical, biotech, and clinical research communities. Phalanx Biotech's expertise in expression profiling and genetic analysis stems from its excellence as an original design manufacturer of OneArray® gene expression microarrays, CytoOneArray® targeted chromosomal microarrays, and its comprehensive knowledge developed as an application-focused service provider. Our dedicated service specialists provide design consultation from sample preparation to bioinformatics support, and are trained experts in gene expression and microRNA profiling. The OneArray® genomic service lab supports investigators in mechanisms-of-action studies, biomarker discovery, and toxicogenomic profiling. Separately, the CytoOneArray® lab provides clinical researchers with detection analyses of microdeletion and microduplications for 264 clinically confirmed disease regions and 41 subtelomere regions related to congenital disorders.
For more information, visit: http://www.phalanxbiotech.com, http://www.onearray.com, or call 877-730-3887
Media Contact:
Vivien HW Mak, Ph.D.
vmak(at)onearray(dot)com
(650)3208669 ext 103