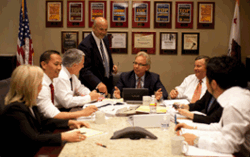 When it comes to auto insurance coverage, I cannot express the importance of obtaining a UIM policy.
Newport Beach, CA (PRWEB) July 14, 2012
The attorneys at Bisnar | Chase recently recovered $15,000.00 on behalf of one of their clients. Bishwajeet, a resident of Apex, North Carolina, was in Irvine walking to a Walgreens from a gas station when he was struck from behind by a passing vehicle.
Bishwajeet suffered a number of injuries, including a concussion and deep lacerations.
The $15,000.00, obtained from Commerce West Insurance Company, was the maximum amount that could have been recovered under the negligent driver's insurance policy. Fortunately, Bishwajeet had purchased underinsured motorist insurance coverage (UIM) in conjunction with his own automobile insurance policy. His UIM coverage essentially increases the insurance available to $100,000, $85,000 more than the insurance policy of the at-fault driver.
UIM insurance coverage allows injured auto accident victims to recover full compensation for their injures and losses (up to the policy limit) in the event that the at-fault driver is uninsured or does not have sufficient insurance coverage to cover all the losses and damages.
In Bishwajeet's case, his medical expenses alone exceeded the $15,000.00 policy limits of the at-fault driver's insurance.
According to the Insurance Research Council (IRC), nearly 14% of all motorists are uninsured and Americans have a one in seven chance of being injured by an uninsured driver. In California, that number is closer to 20%.
Scott Ritzema, California pedestrian accident lawyer, has assisted dozens of car accident victims and encourages his clients to purchase UIM coverage.
"When it comes to auto insurance coverage, I cannot express the importance of obtaining a UIM policy. We are living in difficult economic times in which a majority of the population has purchased the minimum insurance coverage allowable by law. California law requires that drivers obtain a minimum of $15,000 in coverage that will theoretically provide enough money to pay for injured party's medical expenses, lost income and losses. A number of our clients exceed $15,000.00 in medical expenses within their first week of treatment." Says Mr. Ritzema.
About: Bisnar | Chase, Car Accident Lawyer Orange County
Bisnar | Chase is a California based pedestrian accident law firm that has developed a distinguished reputation as trusted professionals with proven results. The firm has been featured on several popular media outlets including the Fox Network, CBS, and ABC. Their attorneys have assisted several thousand clients and have recovered more than two hundred million dollars in compensation.
For a free legal California injury consultation call 800-561-4887 or visit their website at http://www.BestAttorney.com.