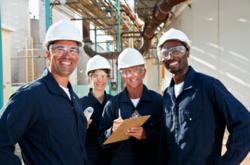 Lake Oswego, OR (PRWEB) July 15, 2012
The commercial world is ever-changing, and keeping up with all of the modern management programs is one of the factors that might propel one company in front of their competition. With that in mind, Creative Safety Supply has developed a complex offering of free training information and guides. From forklift safety to Lean Six Sigma info--from Arc Flash category charts to Pipe marker info, this company has been evolving into one of the true leaders in industrial safety.
When managers and engineers need reference materials regarding NFPA 704 labeling, or workers want guides to the current United Nations "Globally Harmonized System" (GHS) of classifying and labeling chemicals, Creative Safety Supply has those materials, plus other safety supplies.
Industry will not wait for stragglers--but Creative Safety Supply can help.