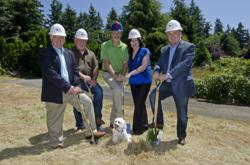 Lynnwood, WA (PRWEB) July 16, 2012
Ground was broken July 11, 2012 for the first new Independent /Assisted Living and Memory Care combined campus to be built in greater Lynnwood and south Snohomish County in the past 10 years. A group representing Living Care Lifestyles, Morningside Development Group and investors in the project turned over shovels of earth to represent the beginning of construction on Quail Park of Lynnwood, a Senior Lifestyle Community.
Actual construction on the project, which is located at 4015 164th St. SW, will begin July 16 on the 135,478-square-feet building set within15 acres. It is described as a sanctuary on top of a hill within a wooded area that will include walking paths, a serene view and a park-like setting.
In addition to a host of contemporary features and amenities, Quail Park will offer the utmost in security for its residents. At full capacity, the community will be home to 254 residents.
On hand for the groundbreaking were Denis Bryant, president of Living Care Lifestyles; Thomas Reynolds, representing Morningside Development Group, project developer; Bob Bailey and Lisa Bailey, investors; Terry Loerke, LCG Pence, contractor; Delia McGinnis, vice president of health services Living Care Lifestyles and David Haack, vice president of sales and marketing, Living Care Lifestyles.
"Growth of the Lynnwood area and the opportunity to be become an active participant in the economic growth of the Lynnwood community and Snohomish County were key factors in the decision to build this beautiful new campus," said David Haack.
"Quail Park will be very secure and private and yet close to shopping and entertainment," Haack continued. He noted that residents will enjoy being less than two miles from Alderwood Mall with its many restaurants and a movie theater.
Living Care has owned senior living communities for 10 years in Oregon, California and Texas but has had only partial ownership in several western Washington communities.
"We are very excited to finally be fully owning and operating a residential care community in our own back yard," Haack said.
A number of Washington state companies will be involved in the architecture/design, engineering, construction and interior design of Quail Park. They include Thomas Mead of Irwin Partners Architects, Seattle; Linda Meyer Interior Design, Kirkland; Abossein Engineering, electrical engineering, Bellevue; and Flury Wyrick & Associates, civil engineering, Everett. LCG Pence of Portland, Ore., is the contractor.
CONTACT:
Olga Haley for Quail Park of Lynnwood
503-860-0848; olga(at)leoketel(dot)com
or
David Haack, Vice President of Sales and Marketing
Living Care Senior Lifestyle Communities
206-849-3511; davidh(at)livingcarelifestyles(dot)com