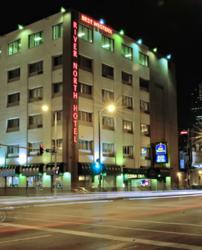 We strive to offer our customers a memorable stay
Chicago, IL (PRWEB) July 17, 2012
BEST WESTERN PLUS River North Hotel announced that it has received a TripAdvisor® Certificate of Excellence award.
The accolade, which honors hospitality excellence, is given only to establishments that consistently achieve outstanding traveler reviews on TripAdvisor, with only around 10 percent of hotels listed on the review site receiving the coveted award.
To qualify for the Certificate of Excellence, businesses must maintain an overall rating of four or higher, out of a possible five, as reviewed by travelers on TripAdvisor, the world's largest travel site. Additional criteria include the volume of reviews received within the last 12 months.
"Details and attention to service are extremely important to us," stated General Manager, Patricia Mejia. "We strive to offer our customers a memorable stay, and this certificate is evidence that our hard work is translating into really positive guest experiences," Mejia said, "and we couldn't be more pleased with that."
BEST WESTERN PLUS River North is an award-winning hotel with free parking in downtown Chicago's River North neighborhood. Opened in 1986, the hotel has continually set standards in customer service, quality, and guest satisfaction. BEST WESTERN PLUS River North celebrated its 25th anniversary in 2011 and underwent major renovations in the same year. More information is available at its website, http://www.rivernorthhotel.com.