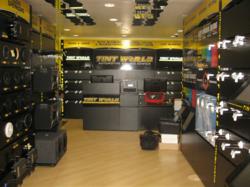 Weston, FL (PRWEB) July 19, 2012
Due to customer preference for the convenience of online shopping, big box electronics stores have recently begun closing their warehouse-sized physical storefronts. However, while most products can be bought online, many of these stores also offered automotive electronics and installation which does require a local center. Automotive franchise, Tint World, has begun taking steps to employ displaced mobile electronics installers and meet the customer demand that big box closings leave behind.
Tint World VP of Dealer Operations, Paul Pirro, recently contacted representatives at big box stores to express interest in recruiting recently displaced mobile electronics installers. New hires have been made as a result and more installers are currently in the interview process.
Tint World reps have also seen new interests in franchise sales from installers in the areas of big box closings. For these mobile electronics installers, Tint World provides a way to turn their passion and skills in the automotive aftermarket industry into their own businesses to meet customer demand. The Tint World Franchise offers a tried and true set of business operations complete with national mobile electronics brands, an attractive storefront, comprehensive business support, and advanced marketing strategies included.
Automotive installation services may not be enough to justify a physical location against the preference for online shopping, but big box closings can't negate the fact that automotive customers still need a place to find professional installation of aftermarket products
For installers and customers alike, the automotive franchise, Tint World, has positioned itself specifically to meet this need and the business has seen explosive growth in recent years. The Tint World business has developed a refined system to meet customer demand for automotive aftermarket products by offering high quality products paired with the expert installation that meets the need for a specialized physical location.
Tint World reps plan to maintain discussions with big box store managers to employ electronics installers and prospect installers interested in opening their own Tint World auto centers.
About Tint World®
Established 1982 in Tamarac, Florida, Tint World® is now the leading franchised provider of automotive, residential, commercial, and marine window tinting and security film services in the US. Tint World® Automotive Styling Centers also offer auto security, mobile electronics, performance and styling accessories, custom wheels and tire packages, auto detailing, and reconditioning services.