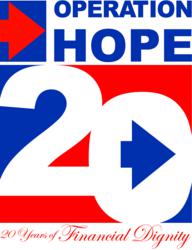 Fear is a prosperity killer, and right now consumers here and around the world are feeling it (fear). Underneath this fear and lack of confidence, are massive levels of financial illiteracy.
-John Hope Bryant
Atlanta, GA (PRWEB) July 16, 2012
Silver Rights empowerment nonprofit Operation HOPE (HOPE) continues its 20-year anniversary celebrations, announcing today U.S. Federal Reserve Chairman Ben Bernanke will headline its inaugural HOPE Global Financial Dignity Summit in Atlanta, November 14 – 15, 2012. Co-chaired by HOPE Founder, Chairman and CEO John Hope Bryant and former Atlanta Mayor and Civil Rights Icon, Ambassador Andrew Young, the event is expected to bring over 1,000 delegates from more than 50 countries worldwide.
Young, who also serves as HOPE Global Spokesman, is a featured speaker for the event, Bryant will also play a key speaking role. William H. Rogers, Jr., Chairman and Chief Executive Officer SunTrust Bank is also set to lend remarks.
Against the backdrop of today's global economic crisis, the summit is designed to help "turn the page," toward viable long-term, systemic and sustainable economic solutions. The theme of conference is Community, Character and Responsible Capitalism. The topics will examine how free enterprise and responsible capitalism can actually be used as a powerful tool to empower and uplift the underserved and the working class, as well as to grow and to stabilize a middle class.
The two-day event begins Wednesday, November 14, with a HOPE Opportunity Community Bus Tour, followed by the Grand Opening of the HOPE Financial Dignity Center at Ebenezer (on Community), and the Global Dignity Forum (on Character), and the first day will conclude with a reception at the Atlanta Airport Marriot Gateway, concluding with the HOPE Global Summit on (on Responsible Capitalism) at the Georgia International Convention Center on Thursday, November 15.
The Global Financial Dignity Summit will frame the issue of financial dignity, financial literacy, as an essential economic tool, key to long-term economic recovery and stability. The Global Financial Dignity Summit Plenary sessions and Financial inclusion Working Group sessions will touch on powerful, inspirational and aspirational themes that speak to the future of "making free enterprise work for all."
Among the forward-thinking organizations supporting Operation HOPE as Summit Partners and Co-convening Partners, to bring the global event to Atlanta, are: BB&T Bank, BMO Harris Bank, Genuine Parts Company (GPC), Georgia State University, PNC Bank, Primerica, Chick Fil A and RBC Bank: with additional support from The Financial Services Roundtable, 100 Black Men, and the National Urban League. Members of the influential event committee include: Steve Bartlett, President and CEO Financial Services Roundtable; John Grant CEO 100 Black Men of Atlanta; and Greg Hawkins Chairman of 100 Black Men of Atlanta.
This year, marking its 20th-year anniversary HOPE is hosting several events, highlighting financial dignity and literacy in an effort to drive social and economic responsibility to a global platform. Established in 1992, after the worst urban riot in U.S. history, HOPE continues to amplify its "silver rights" mission to assist underserved communities through financial literacy programs that increases net worth and promotes financial dignity. In the 20 years, the organization has made "silver rights" a global priority, helping more than 2 million individuals move up the economic ladder, and raising over a 1.4 billion dollars in historic grant funding and community investment for low-wealth communities.
As details unfold in the coming months leading up to the summit, important announcements will be issued, detailing the scope and key players for the event.
To be a part of this historic experience visit http://20years.operationhope.org/event/summit/