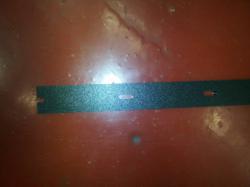 The slotted holes save a lot of time doing layout and assembly in the field.
Claremore, OK (PRWEB) July 16, 2012
Witt Lining Systems has announced that they will now offer pre-drilled compression strips along with their standard non-drilled compression strips.
Drop-in liners manufactured by Witt Lining Systems are designed to be mechanically fastened around the perimeter of the liner. Typically plastic compression strips are used to install liners in concrete lining applications. With the liner in place, the compression strip is positioned and then a fastener runs through the strip, through the liner, and into the concrete.
With standard compression strips, the strips need to have the fastener holes drilled on site. In order to lessen installation time Witt Lining Systems has started to pre-drill the compression strips with a 1/4 in. hole and 1 in. long slot on 6 in. centers. As explained by President Andrew Hotchkies "With 12 inch centers, which seems to be pretty standard, it can still be difficult to get a proper seal. Six inch centers along with an appropriate caulk makes it possible to get a liquid seal with the liner".
Hotchkies explained that the idea to offer these types of compression strips came from one of the company's top field installers. "We had a job that required a large number of compression strips. The installer asked for us to pre-drill the strips. The slotted holes save a lot of time doing layout and assembly in the field. It only made sense to take this idea and offer it to everyone."
The strips can come in a variety of materials including UV inhibited materials for outdoor use. Witt Lining Systems plans on inventorying pre-drilled compression strips from HDPE and make other materials available upon request.
Witt Lining Systems is located in Claremore, OK. The company manufactures flexible PVC liners used for corrosion resistance in process tanks, storage tanks, vats, sumps, pits, floor and containment areas. PVC brands include Spectra Blue, Exceline and Koroseal PVC along with NSF-61 PVC and Teflon liners. For more information contact 1-800-323-3335 or visit http://www.wittliners.com.