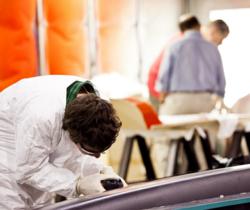 Newport and Bristol, R.I. (PRWEB) July 16, 2012
IYRS, a Rhode Island marine trades and technology school with campuses in Newport and Bristol, will showcase their training programs and accompanying career paths in two events held in July. Despite the country's high unemployment rate, the school and its students have achieved a job-placement rate in the 80th percentile in recent years. The July events are an opportunity for potential students to learn more about IYRS and the skills incorporated into the school's three full-time programs.
An Open House takes place at the school's Bristol campus on Tuesday, July 17 from 4:00 to 7:00 pm. The 5,000-square-foot Bristol facility is located at the Franklin Street Marine Corridor (253 Franklin Street), an educational/industrial complex where students mix with local industry. The Bristol campus is home to the school's Marine Systems and Composites Technology programs.
The event features a special information session at 5:30 pm on veteran benefits and financial aid. IYRS is approved to certify educational benefits for eligible veterans, including the Post-9/11 G.I. Bill (Chapter 33), the Montgomery G.I. Bill (Chapter 30) and Veterans' Vocational Rehabilitation Programs (Chapter 31). Funding options for those planning to enroll in training programs at IYRS also include federal and state grant and loan programs, alternative loans, and IYRS scholarship opportunities.
Attendees will also be able to tour the school's state-of-the-art composites lab, which was installed in 2010. The lab includes a five-axis CNC router and an autoclave. A composites demonstration will be performed during the Open House.
A second Open House takes place at the school's Newport campus on Thursday, July 19 from 4:00 to 7:00 pm. The school's waterfront campus is located at 449 Thames Street and is home to the IYRS Boatbuilding & Restoration program. The campus also includes two historic buildings from 1831 and 1903 and is the site of notable restorations, including the restoration of the 1885 schooner yacht Coronet.
The Newport event will feature a special information session on marine-industry careers at 5:30 pm. Jen Cornwell, Workforce Development Coordinator with the Rhode Island Marine Trades Association (RIMTA), will not only cover information about the career paths in this important state-wide industry; she and the staff at RIMTA also have their finger on the pulse of the industry and can answer questions about the latest trends in the labor market.
At both events, IYRS staff and instructors will be on hand to meet with potential students and answer questions about training programs, admissions, financial aid and other topics.
IYRS offers three full-time programs. In the six-month Marine Systems program, based in Bristol, students learn to install, maintain, and troubleshoot the onboard systems used on classic and modern boats. In the six-month Composites Technology program, based in Bristol, students gain a foundation in composites processes and techniques—a technology with wide application in industries such as aerospace, transportation, marine, wind energy, and others. In the 20-month Boatbuilding & Restoration program, based in Newport, students are taught to master the fundamentals of wooden boatbuilding and learn by doing, each year restoring a fleet of historic wooden craft and returning them to the water.
For more information on the July Open Houses, contact Director of Admissions Ned Jones (njones(at)iyrs(dot)org / 401-848-5777, ext. 203) or visit http://www.iyrs.org.