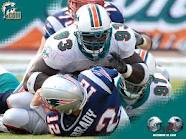 Pittsburgh, PA (PRWEB) July 13, 2012
Headline Tickets Now is currently selling Miami Dolphins tickets online for the Dolphins' 2012 NFL season and preseason games. Dolphins fans are clamoring to see how the Dolphins recover from their 2011 season, when they lost their first 7 games but recovered to win 6 of their last 9 games, ending the season with a 6-10 record. Dolphins ticket holders can expect to see how the new head coach Joe Philbin does as Tony Sparano's replacement.
Other exciting changes to the Miami Dolphins include 2012 Draft picks that bolster the new Dolphins offense. After the 7-game losing streak, the Dolphins defense pulled itself back up, but their offense was still considered to be a terrible mess. In Round 1 of the Draft, the Dolphins picked up quarterback Ryan Tannehill from Texas A&M. Quite a few fans are showing their faith that he's a great pick to replace QB Chad Henne by buying their Dolphins tickets early.
The whole 2012 Draft for the Dolphins revolved around patching together a new offense. Besides quarterback, other offensive picks included OT Jonathan Martin from Stanford, a Round 2 pick; TE Michael Egnew, from Missouri; and WR B.J. Cunningham, from Michigan State. For those buying Miami Dolphins tickets, it'll be fun watching offensive tackle Martin living up to his reputation by protecting the new quarterback, Tannehill. One thing's for sure—this season, there won't be anything like the 52 sacks the Dolphins suffered in 2011.
To start the season, Dolphins tickets for the first game against the Houston Texans are already in demand and going quickly. The Dolphins have never beat the Texans, but NFL fans everywhere are expecting the new Dolphins lineup to make history at Reliant Stadium Sunday, September 9th, at the Texans' home in Houston, Texas.
About Headline Tickets Now
Headline Tickets Now is one of the most popular secondary ticket websites on the Internet. They have affordable tickets for sports, theater, and concert events across the United States and Canada, all without service fees. Headline Tickets Now is an accredited business with the Better Business Bureau (BBB) of Western Pennsylvania.
Please use discount code "NFL2012" for 2 percent off the already lowest out the door prices on all NFL Tickets. Just compare our out the door prices with those big name ticket websites. Same Tickets, lower cost.