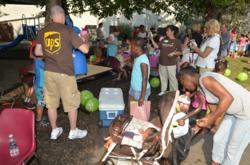 Paterson, New Jersey (PRWEB) July 16, 2012
Eva's Village, a comprehensive anti-poverty nonprofit in Paterson, New Jersey depends on volunteerism everyday to fulfill their mission.
Many people believe the United States is still in a recession and the result of our stagnant economy is seen every day at Eva's Village in the increased demand for their services. During this time Eva's Village recognizes that the help of volunteers has become more and more important to anti-poverty organizations. What Martin Luther King, Jr. stated many years ago, holds true today, "Life's most persistent and urgent question is, what are you doing for others?"
Eva's Village is a good example of how an extensive anti-poverty program uses volunteers to assist them in carry out their mission. In Eva's Kitchen, their soup kitchen operation, the staff and a legion of volunteers serve a hot lunch to over 350 homeless and poor each day. Eva's Village is fortunate to have more than 1,200 volunteers annually, representing more than 110 local corporations, churches, community organizations, schools, colleges, and youth groups. Until 2009 Eva's Kitchen was the primary program that supported volunteers. In late 2009 Eva's Village hired a part-time volunteer coordinator to help them create more volunteer opportunities and to recruit additional volunteers. "Being a part of Eva's Village in any capacity will expand ones perspective," states Jennifer Doherty, volunteer coordinator. "During my three years in this position I have been fortunate to meet many corporate and community members who just want to know how they can serve those in need in our community. It is a very rewarding experience for me and I consider it a privilege to be a part of the development team at Eva's Village."
Eva's Village now has a multitude of volunteer opportunities for individuals and groups, including team building opportunities for corporate volunteers (Bond, Boost and Build and Fund-A-Meal). These programs encourage corporate involvement in the organization's anti-poverty mission and financial support for its kitchen program. Other volunteer opportunities include becoming involved in one of many individual programs at Eva's Village, including Eva's Kitchen, homeless shelters, Hope Residence, transitional housing, Affordable Housing Initiatives, Primary Medical and Dental Clinic, Workforce Development Program and more. Eva's Village provides corporate employees the opportunity of teaching job readiness skills to those seeking employment.
There are two annual activities organized for the children at Eva's Village which provide volunteer opportunities. The first is a Summer Carnival which will take place on July 17, 2012. This event provides a variety of games and arts and crafts activities which are run by individual and corporate volunteers. This year corporate teams from UPS, MPT Delivery Systems, Inc., WithumSmith+Brown, PC and Becton, Dickinson and Company will be giving their time to make a child smile. Members of St. Catherine of Siena S.O.S group, the Information Network on Aging and many other individual volunteers will also be joining in the fun. "We feel fortunate to have a strong base of corporate and community volunteers that assist us in fulfilling our mission," stated Marie Reger, executive director at Eva's Village.
Eva's Village also organizes a holiday shoppe where all of the parents in each of their programs (shelter and substance abuse) are given the chance to come and shop for toys and gifts for their children. Volunteer teams organize toy donation drives; assist in sorting the toys for the shoppe and in wrapping them. Volunteers are also recruited to assist with three annual event fundraisers for Eva's Village. These events include a Fashion Show (May), Golf Tournament (June) and Gala (November).
Founded by Msgr. Vincent E. Puma in 1982 as a response to the poor and homeless in Paterson, NJ, Eva's Village is a non-profit comprehensive social service organization. Through almost three decades of service, Eva's Village has established a unique record in facing community challenges and changing the lives of the hungry, homeless and addicted. It has grown from a simple soup kitchen to become the most respected anti-poverty program in New Jersey. It now includes fourteen integrated programs housed in numerous buildings spanning several city blocks in downtown Paterson.
For more information about getting involved at Eva's Village as a volunteer, call or email Jennifer Doherty at 973.523.6220 ext. 248 or Jennifer(dot)Doherty(at)evasvillage(dot)org. To find out more about Eva's Village go to http://www.evasvillage.org.