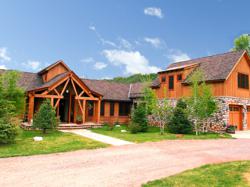 "The Grand Estates team was extremely professional and they delivered on exactly what they said they were going to do from the get go," stated Robin Uihlein, the seller of the Woody Creek estate. "Bottom line, I think Grand Estates did a great job!"
Aspen, Colo. (PRWEB) July 14, 2012
Grand Estates Auction Company, the industry leader for luxury real estate auctions, sold a Woody Creek mountain home for $3.3 million on July 10th in an absolute auction, meaning there was no minimum or reserve price. Having already sold more than 30 luxury properties in the Colorado market and hundreds of exclusive properties nationally and internationally with an unsurpassed closing success rate, Grand Estates Auction Company generated more than 200 inquiries, 63 previews, and 13 registered bidders from the United States, United Kingdom and the Caribbean on auction day.
"The Grand Estates team was extremely professional and they delivered on exactly what they said they were going to do from the get go," stated Robin Uihlein, the seller of the Woody Creek estate. "Bottom line, I think Grand Estates did a great job!"
The $3.3 million selling price represents the second highest residential resale value in the Woody Creek area since January 2011. The new owners, who reside in Indiana, plan to use the home as a second home for their family and hope to close within the next 10 days.
The Woody Creek ranch residence combines all the eclectic charm of the exclusive Aspen-area neighborhood with stunning architectural details and vast mountain views. The 32-acre estate featuring 2,400 spruce trees and the roaring Woody Creek running through the property is fully fenced and gated. Featuring rustic design elements such as reclaimed antique heart of pine wood flooring, Pacific Northwest Douglas Fir posts and beam construction, slate rock patio areas, and a Roaring Fork River Valley river rock fireplace, the four-bedroom, four-and-a-half bathroom home combines Colorado natural elements with luxurious modern-day conveniences, perfectly appointed for entertaining or just getting away from it all.
"The Grand Estates team was able to break-out from the traditional regional marketing of the real estate business and instead delivered interest from 29 states, Europe, New Zealand and the Caribbean, once again creating record sales," said Val DeVine, CEO of Charlotte-based Grand Estates Auction Company. "This was a fantastic home that needed the right buyer, and I am thrilled to be leading the team that delivered that buyer."
Following this success, Grand Estates Auction Company will offer an irrigated 10-acre Evergreen ranch home perfectly situated in the Kerry Gulch Valley that features a 2,400-square-foot heated barn and fully stocked lake, just minutes from world-class skiing and downtown Denver on July 31, 2012. The five bedroom, six bathroom and three half-bathroom smart home is the perfect blend of size and comfort, with a large open floorplan, spacious guests suites, billiards room, putting green, and sprawling decks and patios overlooking the lagoon-style pool and sweeping mountain views.
Grand Estates Auction Company is the leader in the niche market of auctioning luxury real estate, specializing in properties valued at $1.5 million and above throughout North America and the Caribbean.  Established in 1999, the family-owned company was the first of its kind and is credited with holding the first ever luxury real estate auction in Aspen, which resulted in more than $17 million in sales.  The company is based in Charlotte, N.C. with offices in Atlanta, Dallas, La Jolla, Ca., Naples, Fla. and Vail, Colo.  For more information and auction details visit http://www.GrandEstatesAuction.com.