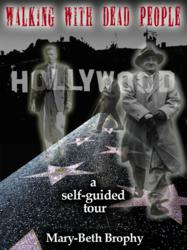 History you won't find in a traditional guidebook.
Los Angeles, California (PRWEB) July 15, 2012
Author and former Hollywood tour guide Mary-Beth Brophy has two passions: local history and cheap travel. "I love exploring new cities, but I can't always afford to sign up for pricey guided tours," says Brophy. "So I usually do a lot of research before I arrive, then get a guidebook with good maps and make my own way." Locally, that research has grown into a recently launched e-tour of Brophy's neighborhood, a place she calls 'Old Hollywood.'
"Old Hollywood is where the American film industry was born and thrived up through the 1940s, but you have to know where to look," Brophy says. "Many of the stars on the Walk of Fame have amazing stories attached to them, and, though we don't have the best track record in Los Angeles of preserving old buildings, there are some real gems in this area."
But don't expect a lecture on architecture on this tour. "I'm drawn to the dark side of Hollywood," Brophy admits. "So I looked for history people probably won't find in a traditional guidebook or even on some of the more commercial ghost tours." What kind of tales can be found in Walking With Dead People - Hollywood? One stop uncovers a double murder on the site of what may well be America's first shopping mall. Other stories include a practical joker with a taste for blood, a cursed sports car, and even a lost caravan of camels. (No, that's not a typo. There were once camels to be found in Hollywood.)
While the e-tour can be read on any Kindle, it's really intended to be downloaded onto a smartphone using one of Amazon's free e-reader apps. Visitors start at Hollywood Boulevard's famous Roosevelt Hotel and follow directions to each stop on the tour. Chapters are short enough to be read on the fly, and the entire tour takes about two and a half hours, although it can easily be broken up into pieces for shorter walks. And at $1.99, it's within budget for even the most frugal travelers.
Brophy even has a tip for getting to Old Hollywood cheaply. "If you haven't been to Los Angeles in a while, you might not realize how much our public transportation system has improved. There are Metro stops at Hollywood/Highland and Hollywood/Vine, right near the start and the midpoint of the tour. So before you shell out money for a taxi, check to see if there's a Metro station near where you're staying."
Walking With Dead People - Hollywood is an e-book available exclusively through Amazon. The retail price is $1.99.
About the Author
Mary-Beth Brophy is a longtime Hollywood resident and the former owner of a walking tour company devoted to mysteries and scandals in the neighborhood around the Walk of Fame. She has a PhD in creative writing from the University of St. Andrews and recently completed a mystery novel based on one of the stories in her tour.