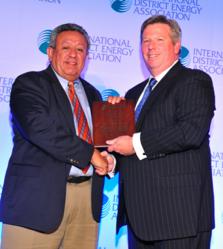 Boston, MA (PRWEB) July 13, 2012
The International District Energy Association (IDEA) presented the Norman R. Taylor Award to Mr. Juan Ontiveros, Executive Director of Utilities and Energy Management at the University of Texas at Austin on July 2 at IDEA's 103rd Annual Conference and Trade Show in Chicago, IL. The Award, which is IDEA's highest individual honor, is named after Norman R. Taylor, who served in the district energy industry for many decades and was known for treating people with respect and representing the industry with integrity.
In remarks during the awards presentation, IDEA President & CEO Robert Thornton stated of Mr. Ontiveros, "Our Norm Taylor Award winner for 2012 embodies all that is important and valuable about this prestigious award. Juan Ontiveros is a giver, not a taker. He has consistently given of his talents, time, experience and operational insights to hundreds of industry colleagues through the years. He has been a mentor to many and eagerly supports the professional development of his colleagues and staff, urging them to undertake new challenges in pursuit of ever greater levels of energy efficiency. He has contributed to the advancement of the industry through his service on the IDEA Board of Directors and to the APPA Institute. As IDEA Chairman, he has traveled the world, from Dubai to Denmark to Chile, to help educate and inform others on the potential for dramatic improvements in energy reliability and resource efficiency through district energy and combined heat and power (CHP). He has done all of this in a humble and helpful manner that would make Norm Taylor proud and certainly honors all previous Norm Taylor Award winners."
Thornton added, "In 2009, Juan Ontiveros was asked to serve on a Blue Ribbon Committee for the U.S. Federal Government National Academy of Sciences to assist with planning and evaluations of energy efficiency options for the U.S. Capitol Power Plant in Washington, DC. Today, the Capitol Power Plant, which provides steam and chilled water district energy service to the U.S. Capitol Building, the Supreme Court, the Library of Congress, the Capitol Visitor Center and all the Senate and House Office Buildings on Capitol Hill, is undertaking a plant renewal and investment in CHP that will significantly increase the energy efficiency and enhance the reliability of this very important infrastructure asset for our nation's capital. Mr. Ontiveros' insight, experience and expertise in operating a large district energy facility at the UT Austin campus proved very helpful to the Committee's deliberations and final recommendations."
A graduate of the University of Texas El Paso, Mr. Ontiveros has primary operational responsibility for the large campus utilities system at the main campus of University of Texas Austin, one of the largest in the United States. Serving a campus population of approximately 50,000 students and 22,000 faculty and staff, the 137 MW CHP facility at UT Austin is arguably serving a small city with mission-critical research facilities demanding highly reliable energy services. UT Austin is recognized as one of the most efficient and reliable campus energy systems in the United States, if not the world.
Mr. Thornton also noted, "In 2010, the US State Department contacted Mr. Ontiveros to join an emergency response team dispatched to Chile after an 8.8 massive earthquake decimated the central campus of the University of Chile. The U.S. delegation sought Juan's guidance on rebuilding recommendations for the energy infrastructure of the main campus. He has willingly responded with service to his country and the global community. This is the essence of the IDEA Norm Taylor Award."
Under Mr. Ontiveros' guidance, UT Austin has invested nearly $150 million in energy efficiency and capacity upgrades over the past decade, which have been paid for in energy savings. Over the past 15 years, the UT Austin campus has nearly doubled in size from approximately 9 million square feet to nearly 17 million square feet, and yet today uses the same amount of fuel as in 1996, essentially achieving carbon-neutral growth through increased energy efficiency.
IDEA is an independent, non-profit industry association formed in 1909 with headquarters in Westborough, Massachusetts that currently represents the interests of approximately 2000 members worldwide involved in operation, design, construction and optimization of district heating, district cooling and CHP (cogeneration) systems, with a majority of members in North America, as well as Europe, Middle East and Asia Pacific.