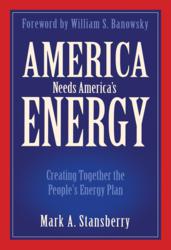 The time has come for all of us, the people, to take control of our energy future. - Woodrow W. Clark II, MA3, PhD, co-recipient of the Nobel Peace Prize
Dallas, TX (PRWEB) July 24, 2012
New book "America Needs America's Energy: Creating Together the People's Energy Plan," (Brown Books Publishing Group), by international businessman, energy leader, and humanitarian Mark A. Stansberry of Edmond, Oklahoma, is an educational go-to guide for learning about energy solutions and a wonderful launchpad for how to move forward together in creating the People's Energy Plan.
With more than thirty-five years of direct experience in the energy industry, Stansberry, who has testified before the US Senate Energy and Natural Resources Committee, offers readers a frank discussion of the issues at hand as well as realistic, achievable solutions.
Presented in direct, no-nonsense language, "America Needs America's Energy" is an excellent guide for citizens and policy-makers alike. Stansberry provides readers with a glossary, links and other resources they need to know about America's energy situation.
"Stansberry knows the subject well," says Michael Warder, vice chancellor of Pepperdine University. "He is an experienced person in national public policy and its implementation." Bill Anoatubby, governor of the Chickasaw Nation, adds, "Stansberry successfully challenges us toward developing a comprehensive American energy plan."
"For too long we have been wasting time blaming the energy industry or the government for failure to adopt a national energy strategy when we, the people, should be responsible for creating the plan," says Stansberry. "Gasoline prices have been rising and oil supply disruptions are in question. This is old news, yet nothing has been done to change it. That is because it will take the involvement and commitment of American citizens to step up and make a difference."
Co-recipient of the Nobel Peace Prize, Woodrow W. Clark II, MA3, PhD, a qualitative economist for Clark Strategic Partners, says, "The time has come for all of us, the people, to take control of our energy future in America."
By turning to new technologies, innovation, and the enduring American spirit that has enabled us to overcome every challenge we have faced since this nation's founding, the goal of total energy independence can be achieved before it is too late.
"America Needs America's Energy" is dedicated to the proposition that we need an energy revolution in this country right now, and the leaders should be the everyday people. We, the people, are the ones who will have to do it, because our societal institutions have proven they are not up to that task.
To learn more visit: http://www.PeoplesEnergyPlan.com
Books are available online and in bookstores.
About Brown Books Publishing Group:
"America Needs America's Energy: Creating Together the People's Energy Plan" was published by Brown Books Publishing Group, a prestigious Texas-based independent publisher. For more information about the publisher, please go to: http://www.BrownBooks.com
# # #