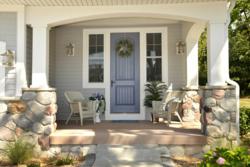 MAUMEE, OHIO (PRWEB) July 17, 2012
Thanks to the trend of people residing in their current homes longer than in previous years, homeowners nationwide are embracing ways to enhance the curb appeal of their houses. The Therma-Tru Classic-Craft® Canvas Collection™ of smooth, paintable fiberglass doors allows homeowners to add a splash of any color they desire to their entryways.
The premium collection is designed with all the beauty and performance of the Classic-Craft line, with a smooth, paintable surface that allows homeowners to easily adapt to home interior and exterior finishes. The doors feature architecturally correct facets, including wide center panels and rich, market-tested embossment details that rival high-end custom wood doors, as well as heavy-gauge steel doors. Each entry door in the collection features all the sought-after benefits of a premium fiberglass door system, including security, durability and energy efficiency.
To suit a wide variety of architectural styles, the Classic-Craft Canvas Collection includes five new 6'8"-door styles: Two-panel square top; two-panel plank soft arch; four-panel arch top; five-panel; and one-panel plank Craftsman. The entire Classic-Craft glass portfolio is available, including 11 decorative and clear, Low-E glass design options.
Easy Online Door Selection
"Holding paint chips up against a wall is a simple way to see what a change will look like inside the home," says Brad Johnson, vice president of marketing for Therma-Tru Corp. "Obviously you can't hold up different doors to the exterior of your house. The Therma-Tru 'Door Designer' and 'My Saved Doors' tools are even better than sample chips because these online services show you what different door styles look like on a variety of home styles."
The "Door Designer" program (located at http://www.thermatru.com/products/door-designer/) allows homeowners to select a house style that matches their own home. The next step is to select a door shape and style that are electronically inserted on the sample house. Homeowners can customize the on-screen entryway by "trying on" different door styles and glass packages, along with selecting various colors for the sample home's exterior, roof and façade.
The "My Saved Doors" tool (located at http://www.thermatru.com/MyThermaTru) allows homeowners to upload a photo of their existing home to the site and then browse Therma-Tru's online product catalog to select doors they like. The tool allows people to save the doors they select and make side-by side comparisons to the features they like best while looking at the picture of their own home on the screen. Finally, homeowners can save and print out their final selections to share with family and friends via e-mail, Facebook and Twitter.
Therma-Tru also offers the Picture Perfect™ Virtual Designer that provides homeowners with the opportunity to upload pictures of their own home and make changes online by swapping in different door styles. Homeowners can contact their contractor or dealer to use this online tool or order a personal copy at http://www.thermatru.com/orderPP.
To view the extensive collection of fiberglass entry doors and decorative glass packages available from Therma-Tru, visit http://www.thermatru.com.
###
About Therma-Tru
Therma-Tru is the nation's leading manufacturer and most preferred brand of fiberglass and steel exterior door systems. Founded in 1962, Therma-Tru pioneered the fiberglass entry door industry, and today offers a complete portfolio of entry and patio door system solutions, including decorative glass doorlites, sidelites and transoms, and door components. The company also offers low-maintenance Fypon urethane and PVC products. Headquartered in Maumee, Ohio, Therma-Tru is part Fortune Brands Home & Security. (NYSE: FBHS). For more information, visit http://www.thermatru.com, http://www.fypon.com or call (800) 537-8827.
Images at: http://thermatru.com/news-events/media-resources/entry-door-images/