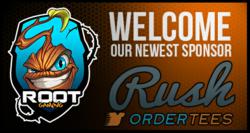 We plan on getting creative with contests and giveaways for our fans
Philadelphia, PA (PRWEB) July 16, 2012
Premier North American e-sports team ROOT Gaming has announced the acquisition of a new sponsor, custom apparel brand Rush Order Tees. As the exclusive producer of all ROOT Gaming licensed merchandise, Rush Order Tees is excited to support the renowned team's future forays into the ever-growing scene of eSports and competitive gaming.
Rush Order Tees, a Printfly brand, has experience working with high-profile clients both inside and outside of the eSports industry. From heavy hitters like Google to well-known entities such as the Oprah Winfrey Network and HBO, Rush Order Tees has experience with providing top quality merchandise beyond just custom made t-shirts for the most discerning of customers.
ROOT Gaming's Paulo "CatZ" Vizcarra commented on the new alliance, "I am really really happy about this sponsorship from Rush Order Tees; the quality of their products is far above anything I have seen so far in eSports. Before Rush Order showed up, we were bummed about potentially selling shirts limited to 3 colors like most teams have to do, but now we couldn't be happier that we found a company that can print our beautiful logo at its best!"
As the last fiscal year has shown, the e-sports industry is maturing and sponsors have started signing on in higher numbers than ever before. "Sponsoring ROOT Gaming and other eSports teams would have been a risky proposition in early 2011, but the last several months have shown mature growth and we are satisfied that the industry is here to stay," remarked Project and Sponsorship Manager, Eric Smith. "We are beyond excited to be a part of such an enthusiastic community at this stage of its development."
Known for its player personalities and for being one of the pioneers in the North American eSports scene, ROOT Gaming boasts well-known players and casters such as CatZ, Drewbie, Destiny, Vibe, KiwiKaki, Slush, TT1, and Rotterdam. Steven "Destiny" Bonnell added, "I'm really excited that rushordertees.com is going to work together with ROOT to deliver some quality merchandise. I look forward to seeing everyone wearing a ROOT shirt the next time I'm at a tournament!"
Drew "Drewbie" Moysey chimed in, laying out some of the benefits in the works made possible by the partnership: "I'm really looking forward to working with Rush Order Tees. We have some awesome shirts in the works," said Drew. "We plan on getting creative with contests and giveaways for our fans and have a lot of fun with it, so make sure to stick around and keep checking our website/media outlets." With giveaways, contests, and other promotions that will benefit e-sports fans at large, Eric summed up the excitement at the Rush Order Tees headquarters, stating, "Here at Rush Order Tees, we were especially excited to work with a team with such popularity and innovation. The lineup is full of great talent and some of the most entertaining personalities in the streaming video space. This alliance will only bolster our image as a business that gets and supports eSports."
http://www.rushordertees.com/
About Rush Order Tees | Printfly
Rush Order Tees was established in 2002 by Printfly to specialize in express and prioritized production of custom t-shirts and apparel.
Rush Order Tees acquired a 15,000 SF facility in Philadelphia, PA which they equipped with over 20 of the highest quality screen printers, digital printers, exposure units, heaters, and more. Offering free nationwide shipping, an industry-leading low price guarantee, excellent service, value and quality has yielded overwhelmingly positive online rating and reviews across leading sites like Google, Superpages, YP.com, and the Better Business Bureau where they hold a certified A+ BBB Rating.
Built on repeat business and referrals from satisfied customers, Rush Order Tees has grown to be a major leader in the custom shirt printing industry.
Contact Rush Order Tees @ 1 (800) 620-1233
About ROOT Gaming
On the surface, ROOT Gaming is a professional organization of gamers who regularly attend and place in tournaments, practice together, stream, and create media for their fans. Behind the scenes, though, ROOT is more akin to old friends sharing drinks. The team is formed from players with great potential who get along with the other players. It's a simple formula, and since its inception ROOT has bred championship players, commanded an impressive live stream following, and run some great events. We've also built strong and lasting relationships with fans, and we're proud to say that when we reformed as a team the response we received was overwhelmingly positive.
ROOT has overwhelmingly prided itself on building great relationships with our friends, our fans, and our industry. ringing great talent together, and playing and practicing as teammates. We share in each other's successes and our failures.