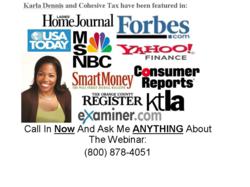 (PRWEB) July 13, 2012
Karla Dennis gives another amazing free web teleconference.
This time it's a joint webinar with real estate experts from 37th parallel.
Learn how to invest in real estate for financial success, and how having the right tax strategy will help anyone reach their peak potential for success.
Karla points out the steps to take to ensure anyone who is so inclined can receive the maximum tax breaks that help ensure financial success in the real estate market.
Chad and Ed explain how to get started with real estate investing and how to achieve passive income with real estate.
Learn the advantages and avoid the pitfalls.
Learn from the foremost expert on taxes what to do to benefit you. Save more of your money, get more back on your taxes.
Join us to hear from Karla, Chad and Ed, for about 60 minutes, and listen. This is available for everyone.
Don't miss this. It's free to the public.
Click Here To Register
Starting a business is a sure way to financial success, but one of the easiest ways to success is through purchasing and selling of property. Learn how to invest in real estate and how to earn an income from real estate passively.
Karla Dennis is CEO and owner of Cohesive Tax™, a bookkeeping service and tax firm.
Karla is actively sought as a tax expert by the media and has been quoted by Smart Money, CNBC, Consumer Reports and MSNBC. She actively speaks to various business leaders, executive organizations, trade groups, community factions and civic gatherings, and area Chambers of Commerce.