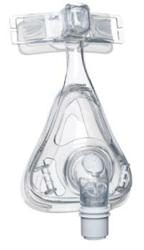 Houston, TX (PRWEB) July 16, 2012
Listening to the tastes and desires of their consumers, Respironics responded with the Amara Full-Face Mask, the latest full face mask that caters to the needs and requests of all full-face mask users. The Philips Respironics Amara Full-Face Mask looks and feels smaller and lighter than a traditional mask.
For its size and weight, the Amara packs a punch in terms of capabilities. This small mask can do everything that a bigger, traditional mask can do as well, with the added bonus of easy clip on/clip off, one piece cushion frame. Inspired by other Respironics face masks, the Amara features quiet exhalation ports to reduce sound, and quick release clips. The Amara comes in four sizes, all of which can fit onto the same frame. The looks of the Respironics Amara Full-Face Mask are not deceiving, because although it is simple in nature, it is a very sturdy and durable mask that does not sacrifice comfort for the user. Cleaning, handling, and using are as convenient as it gets with any available full-face mask.
The Respironics Amara Full-Face Mask is available for pre-order at SleepRestfully.com on July 13, 11 A.M. Eastern Time, and will be ready for shipment on July 16.
Sleep Restfully, Inc. places customer service and satisfaction as its highest priority to sleep therapy and oxygen customers. Sleep Restfully, Inc. believes that they are second to none in customer service, which is reflected in their decades of experience and their Better Business rating of "A". Sleep Restfully carries a complete line of sleep therapy supplies and equipment from the best manufacturers in the industry, such as Resmed, Philips Respironics, Fisher & Paykel, and others. In addition to CPAP machines and supplies, Sleep Restfully specializes and carries portable oxygen concentrators. Sleep Restfully offers the best support and prices on portable oxygen concentrators such as the Respironics SimplyGo, Respironics EverGo, Sequel Eclipse 3, Inogen G2, Invacare XPO2, and more. Stationary oxygen concentrators are also carried, such as the Respironics EverFlo and Invacare Perfecto.
Sleep Restfully stocks all replacement parts for CPAP machines, CPAP masks, and portable oxygen concentrators.
Contact Sleep Restfully, Inc. today toll free at (866) 923-2727 or by visiting http://www.sleeprestfully.com.