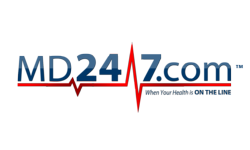 Visit us on LinkedIn.
Tampa, FL (PRWEB) July 14, 2012
In a move designed to increase participation for all social media accounts associated with the premier provider in telemedicine services, MD247, Thomas Meehan announced the company would be straying from medical discussions. The newly plotted course, designed specifically by Meehan, will include political discussion and polls about semi-controversial subjects conducted every day. The first account to make the change is LinkedIn.
Meehan explained that course correction, or even charting new waters, has been a practice on the MD247 LinkedIn business blog since the beginning. Finding a voice in and amongst the 5,000 "web everything" doctor sites is a difficult task and, in order to step out of the shadow, Meehan made the unprecedented move of changing his "social media channel" to "all talk." This translates to MD247 existing as one of a select few LinkedIn accounts encouraging real open discussion regarding current political and economic topics.
The MD247 Social Media Curator, Shell Germann, has been given the "green light" to allow polite discussion of topics like national healthcare; the election and the realities of national unemployment rates. Germann advised that conservatives, liberals, independents, libertarians and all other interested individuals are welcome to conduct polite discussion. The MD247 LinkedIn account can be located at http://www.linkedin.com/company/md247-com.
LinkedIn (NYSE: LNKD) is a social networking website for people in professional occupations. Founded in December 2002 and launched in May 2003, it is mainly used for professional networking.
Largo Florida based MD247.COM (MD247; MD/247; MD 247; M.D.247; MD-247) provides an affordable telemedicine supplement to existing healthcare services. MD247.COM telemedicine program members have unlimited telephone access to a nationwide medical support team, all with just a single phone call to the MD247.COM telemedicine Talk to a Tampa Doctor/Talk to a Nurse Hotline. MD247.COM has a virtual platoon of registered nurses; board certified physicians and a support staff available to members for all non-emergency situations. More information about MD247.COM is available online at http://www.md247.com.