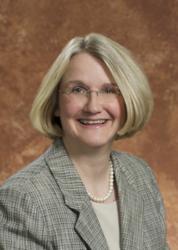 We could not be more pleased to have someone of Rhonda's caliber lead this important division of our growing company.
Marlton, NJ (PRWEB) July 16, 2012
Rhonda K. Johannesen has joined University Student Living, LLC as Senior Vice President of Campus Real Estate Development. Rhonda's primary responsibility will be to collaborate with colleges and universities to provide development and management solutions for all aspects of their current and future academic housing needs. She will report directly to the President of University Student Living, Mr. Joseph M. Coyle.
"We could not be more pleased to have someone of Rhonda's caliber lead this important division of our growing company," stated Mr. Coyle, "her expertise, professionalism and dedication to student housing is highly regarded throughout the industry."
Ms. Johannesen has developed major collegiate housing projects, on-and off-campus, for owners and clients. Her recent credits include the Student Housing Business 2012 Innovator Award for Most Creative Public/Private Partnership for her work at Colorado State University-Pueblo. Prior to joining University Student Living, Rhonda led the development team for Education Realty Trust (EdR) in Memphis, Tennessee (recently awarded the game-changing University of Kentucky revitalization project), and worked in various corporate leadership capacities for more than 15 years. At GMH/College Park Communities she was senior vice president of operations, where she was responsible for a student housing portfolio of 45 owned and managed properties, with 30,000+ beds and asset values nearing $1 billion.
Rhonda has more than 25 years of progressive management experience and an extensive background in planning and creating desirable outcomes for private, public, not-for-profit and for-profit business entities, including those with state and federal sponsorship and fee-for-service contracts. She's a University of Wisconsin-Stout graduate and currently serves on its Property Management program advisory committee. She was selected as their Executive-in-Residence in 2012.
About University Student Living
Headquartered in Marlton, New Jersey, University Student Living was launched in April 2011 as the comprehensive student housing company of The Michaels Organization. The Michaels Organization is a national leader in developing and managing residential communities, with a. portfolio representing over 100,000 residents throughout 340 diverse communities in 33 states. The company's first student housing project was new graduate housing for Rutgers University in Camden in 2011. Within its' first year, University Student Living started construction on two new student housing projects that will open for the fall 2013 academic year. The company has over 3,000 units in the pipeline for 2014.