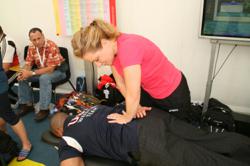 Jose Rodriguez, USA Judo Executive Director, commented, "Our partnership with Maximized Living has given us the education, support and comprehensive principles to increase stamina, strength and perform at their pinnacle in London."
Orlando, FL (PRWEB) July 16, 2012
Orlando-based Maximized Living, the official performance and chiropractic team for USA Judo, Weightlifting, Wrestling and Sitting Volleyball, is offering families nationwide the chance to train and prepare like world champions with their cutting-edge performance programs created for elite athletes.
These comprehensive programs and advanced spinal correction techniques can help individuals of any athletic ability or fitness level achieve their greatest personal health goals. Maximized Living's group of fiery, elite chiropractors has successfully treated and trained world-class athletes, but their dedication and passion remain with their local communities.
Most people fail at applying nutrition and fitness. They may know what to do, but just don't do it or stick with it very long. By giving people the tools to put good nutrition to work and helping them utilize elite-fitness secrets to get better results in a fraction of the time, the doctors are helping people not only get healthy now, but stay fit for life.
Using their 5 Essentials, Maximized Living's goal is to show the average person that prescription medications and surgeries are not the paths to true wellness. Maximized Living is dedicated to showing people that living and enjoying a long life isn't just possible—it's simple and easy if you only know how.
"What we've been able to do in our clinics for everyone from small children to everyday parents and grandparents through the 5 Essentials of Maximized Living has been so powerful, that even the world's most elite athletes wanted to use it to give them their best chance to make their respective US national teams or even win a medal," commented Dr. Ben Lerner, co-founder of Maximized Living.
Jose Rodriguez, USA Judo Executive Director, commented, "This is about making our athletes stronger, faster and sustainably successful. Our partnership with Maximized Living has given us the education, support and comprehensive principles to increase stamina, strength and perform at their pinnacle in London."
With hundreds of offices nationwide, Maximized Living has established itself as more than an alternative to the medical model. Maximized Living doctors have carved out their niche as the determined, no-nonsense path to true health and optimal human performance.
About Maximized Living
Maximized Living is a comprehensive health delivery system. It's a complete system for living utilized by a network of hundreds of Chiropractors and associated health care leaders. These doctors incorporate the 5 Essentials™ to identify root causes of health issues, remove interference and allow patients to build health rather than mask or treat problems with medications and surgery.
http://www.maximizedliving.com
For additional information, contact:
Evette Rivera, Director of Marketing
Maximized Living, Inc.
1420 Celebration Blvd, Suite 200
Celebration, FL 34747
321-939-3044
erivera(at)maximizedliving(dot)com