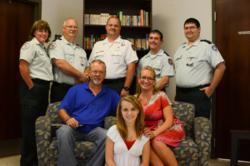 You all helped us and stayed by our side the whole time and made sure that we were taken care of.
(PRWEB) July 16, 2012
The Bracey family made a special trip to Louisiana from Oklahoma on June 30th to thank the Acadian Ambulance medics who saved their lives three years ago.
In 2009, the Braceys—Todd, Patty and their daughter, MaKayla—were traveling on I-10 en route to visit family in Covington, Louisiana, when another vehicle crossed over the median and struck a nearby car, which in turn stuck the Braceys' vehicle head on. The car that hit them burst into flames, and when Acadian Ambulance medics and area firefighters arrived on the scene, the Braceys had to be extricated from their car. Knowing that the Braceys did not have any other family nearby, the medics stayed with them at the hospital for several hours to offer their support.
Even three years after the incident, the Braceys felt compelled to express their gratitude and once again see the medics who were there that fateful day. They contacted Acadian Ambulance officials, arranged a meeting, and traveled to Lafayette, Louisiana, to be reunited with Acadian medics Travis Duplantis, Eddie Bruce, Danette Bruce, and Corey Potier. The Braceys thanked them with tears, hugs, and large gift baskets.
MaKayla quietly presented Danette Bruce with a heart shaped plaque inscribed, "I thank God for you every day." Only 13 years old at the time of the accident, MaKayla had to be separated from her parents while she was being treated at the hospital, and Bruce remained with her until family could arrive.
"You all helped us and stayed by our side the whole time and made sure that we were taken care of," Bracey said as he addressed the medics. "I commend all of you for that and I appreciate it and I thank everybody."
The medics were greatly moved by the meeting as well. "The hardest part of our jobs is leaving the patient and not knowing the outcome, so it is amazing to be able to see them again," said Danette Bruce. "In such a short time, we all got so close. It's like they were our family immediately."
Operations Supervisor Roy Payne presented the medics with Meritorious Service Awards for their lifesaving efforts.
A video of the reunion can be watched here.
Acadian Ambulance is one of the largest ambulance services in the nation, offering emergency and non-emergency transportation to areas in Louisiana, Texas and Mississippi.
Since 1971, Acadian has been committed to providing the highest level of emergency medical care and transportation possible. In the past decade, the company has expanded to include a diverse suite of services in health, safety, and transportation. Acadian's six divisions are Acadian Ambulance Service, Acadian Monitoring Services, Air Med, Executive Aircraft Charter Service, National EMS Academy and Safety Management Systems.
###