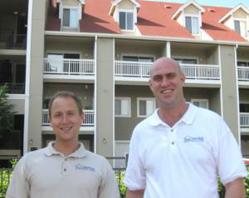 Denver, CO (PRWEB) July 15, 2012
After months of waiting, this weekend Ron and Sherrie Cinkle will get brand-new HardiePlank Color Plus Siding for their home from Lifetime Windows and Siding. The value of the siding is $16,000, but it won't cost the Cinkles a cent. That's because they won a drawing for the new siding at The Colorado Garden and Home Show, February 11-19 at the Colorado Convention Center.
Lifetime Windows and Siding is also celebrating this event by holding a block party in the Cinkle's neighborhood, near Ken Caryl Avenue and South Kipling Parkway in Littleton. The block party includes a jumping castle for kids, and ice cream to take the edge off the July heat.
Lifetime Windows and Siding spokesman Jerry Chesser explained that before installing the new siding, "We will be removing all existing siding, soffit and fascia, inspect sheathing for damage. We will install HardieWrap moisture barrier and flashing around the windows," adding, "All this is done with ZERO cost to the home owner."
HardiePlank siding is the most popular fiber cement siding in the country—it's found on more than 4 million homes in the US—because of its quality and numerous benefits. The HardieZone system means that the siding is specifically formulated for the Colorado climate where it is going to be installed. The ColorPlus technology used in the manufacturing process to last up to 2 times longer than siding painted with other techniques. The color on the siding is warrantied for 15 years, and the siding itself has a 30-year, transferrable, and non-prorated warranty.
About Lifetime Windows and Siding
Lifetime Windows and Siding offers energy efficient, low maintenance, and quality home improvement products to homeowners across the Front Range, including windows, glass doors, fiber cement, steel and vinyl siding. Backed by lifetime warranties with complete satisfaction guarantees, Lifetime Windows and Siding's products are all made in the USA.