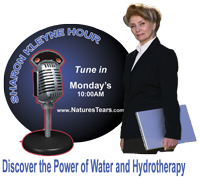 Grants Pass, OR (PRWEB) July 16, 2012
Local Soil and Water Conservation Districts have been around since 1939. They were originally created during the "Dust Bowl" of the 1930's when poorly understood agricultural practices led to the stripping away of soil-holding grasses and sod in America's agricultural heartland, which caused severe soil erosion and ultimately, the infamous dust storms.
With global warming and drying in 2012, the need to conserve soil and water, and to practice environmentally sound agriculture and resource management, may now be even more important.
In the United States today, there are 3,000 locally administered Soil and Water Conservation Districts. The Josephine SWCD, in Grants Pass, Oregon, is typical. Grants Pass is also the home of Sharon Kleyne, host of the Sharon Kleyne Hour Power of Water radio show.
On May 7, 2012, Sharon Kleyne interviewed Larry Ford, District Director of the Josephine Soil and Water Conservation District. The Sharon Kleyne Hour Power of Water is heard live Mondays at 10:00 (PST/PDT), on World Talk Radio, Green Talk Network, Apple iTunes and Voice America. Podcasts of archived shows are available at WorldTalkRadio.com.
Ford explained that local SWCD's originated with the federal Soil Conservation Service (now the USDA-Natural Resource Conservation Service), created in 1936 through the Soil Conservation and Domestic Allotment Act (replacing the earlier Agricultural Adjustment Act that was found unconstitutional). In 1937, the SCS voted to encourage the formation of local districts, which was supported with enabling legislation in 1939. The first Oregon district was South Tillamook in 1940. The Josephine SWCD was formed in 1949 and the last Oregon district was the Coos SWCD, created in 1962. The Illinois Valley SWCD, created in 1949, is also located in Josephine County, Oregon.
According to Ford, SWCD's are not regulatory agencies but work mostly with private landowners and are advisory and educational. Primary objectives are to promote safe and sustainable agricultural and water quality practices, noxious weed removal and an uninterrupted water supply for agriculture, industry and drinking.
Sharon Kleyne talked about dry land farming, referring to her interview with Dr. Fred Kirchenmann (February 8, 2012). Dr. Kirchenmann grows abundant wheat crops in North Dakota on less than 10 inches of rain per year and no irrigation. Ford noted that deep tilling of soil on the Great Plains has been a primary cause of water loss and erosion and that the higher the organic content of soils, the better the water retention.
Sharon also noted, and Mr. Ford agreed, that crop irrigation helps to recharge the underground water table. Dams also recharge underground aquifers.
Ford observed that Josephine County is currently coming out of a severe drought cycle, as a result of which many trees are extremely stressed. One result is an outbreak of tent worms on certain tree species (primarily madrones). Greater rainfall for the last three years will help control the worms, as will hard frosts during the winter. Tent worms can defoliate entire trees but the results are not usually fatal and affected trees should return to normal the following spring.
The interview concluded with a discussion of water recycling and conservation. Sharon noted the use of roof lawns in Japan and Ford observed that the city of Singapore has made a major commitment to water recycling. In the United States, passive capture of water runoff from roofs during rain, and recycling of "gray water" from the bath and sink, can greatly cut down on the use of expensive drinking water for garden, lawn and toilet.
The Sharon Kleyne Hour Power of Water is broadcast live on Mondays, 10 a.m., PST/PDT. The syndicated talk show is heard on Voice America/World Talk Radio, Green Talk Network and Apple iTunes. Go to http://www.SharonKleyneHour.com for written summaries and on-demand podcast replays.
© 2012 Bio-Logic Aqua Research